View this email in your
browser
Good morning!
Amazon.com Inc. chief executive Andy Jassy suddenly has a lot of unhappy employees on his hands after his recent return-to-office push.
The tech giant's CEO previously endorsed a "no one-size-fits-all approach" to where employees work, but he's now ordered corporate staff back to the office for a minimum of three days a week starting May 1. "Teams tend to be better connected to one another when they see each other in person more frequently," Jassy says in the announcement. "There is something about being face to face with somebody, looking them in the eye and seeing they're fully immersed in whatever you're discussing that bonds people together."
Unsurprisingly, workers were quick to push back. Within hours of the announcement, a new Remote Advocacy channel on Slack filled with outraged Amazon employees popped up. Staffers also started circulating a petition demanding management drop the back-to-office order. As of last Tuesday, 5,000 workers had signed the petition and 16,000 had joined the Slack group, CNBC reported.
Some say being forced to return to the office is so unpalatable that they'll quit. Almost 80 per cent of Amazon employees who responded to a poll on the Slack channel say they'll look for new opportunities outside the company if the mandate goes ahead, according to Business Insider.
Jassy might not think that's a bad thing amid a cost-cutting campaign expected to result in 18,000 layoffs at Amazon this year. But the swift backlash illustrates how workers won't easily give up what they now consider a mandatory condition of doing their jobs, even if sector-wide layoffs are on the table.
That sentiment is also playing out in Canada, where 81 per cent of workers say being able to work from home is a factor in determining whether they stay at a job or not, according to the latest Cisco Systems Inc. hybrid-work survey. Workers like the gains they've experienced in work-life balance, with 79 per cent saying flexibility has been a positive, and 47 per cent saying it's been "very" positive — up 16 per cent from last year's survey. And 23 per cent say flexibility about work location is their top priority when seeking out a new job, second only to higher pay.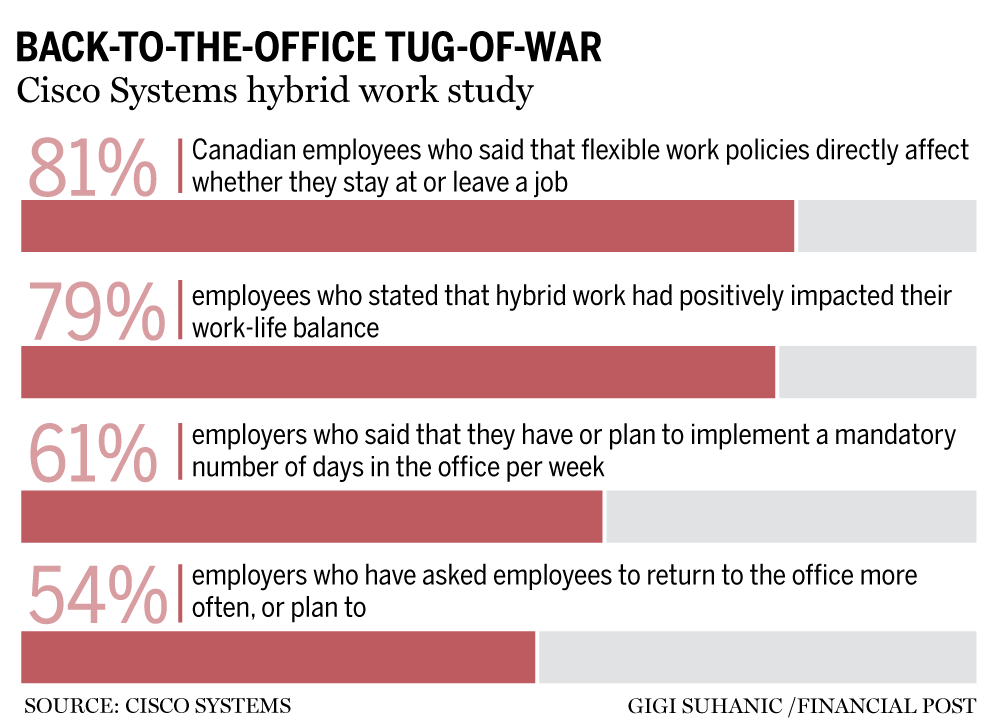 Nevertheless, employers still seem eager to get everyone back into the office. Of the managers surveyed, 61 per cent have or plan to set a mandatory number of in-office days in the coming months, and 54 per cent plan to ask workers to come in more often, if they haven't already. Those findings highlight a clear gap between employer and employee expectations about working from home, Cisco says.
"At the highest level, there's satisfaction overall with hybrid work amongst both employees and employers," Shannon Leininger, president of Cisco Canada, tells The Canadian Press. "But when we dig into the numbers, there's a tension between the expectations of employees and employers. Employers feel like hybrid work is a benefit. Employees feel like it's expected."
Of course, working from home also has its drawbacks. Studies show employees worry they'll miss out on career advancement opportunities if they don't put in enough face time at the office, and those who work on a fully remote basis often complain of loneliness and isolation. One recent report on remote work by the Toronto Metropolitan University (TMU) in partnership with the Future Skills Centre found that 43 per cent of people who work from home every day say their connection with colleagues has worsened.
"I don't think remote work is going away, but we have to get a whole lot better at it," says Paula Allen, global leader and senior vice-president, Research and Total Well-Being, at Lifeworks Inc., a unit of Telus Corp.'s health division. "People are just not feeling as connected to the workplace and not feeling as connected to their co-workers."
Addressing those feelings of isolation is one good reason to get people back into the office, and Amazon's Jassy highlights connection as the motivation behind his push for more on-site days. But forcing staff back three days a week — as Jassy, Apple Inc.'s Tim Cook and other executives have mandated — might be too much. The perfect amount of in-office time could be just one day a week, according to an analysis of TMU's report on The Conversation.
Employees who come into the office one day a week report higher levels of job satisfaction, productivity and trust in their employers than those who come in two or more days. The authors of the analysis point out that 84 per cent of remote workers say they are highly satisfied with their jobs, as are 83 per cent of people who work one day a week in the office, but that drops to 70 per cent for people forced to work two or more days a week in the office.
"Working one day a week in person might be a sweet spot for maintaining job satisfaction and performance, while still providing opportunities for building in-person connections," the authors say.
Employers itching to get staff back into the office might want to consider the one-day-a-week plan. After all, unhappy employees are less engaged and less productive, and could end up using their work hours to research their exits, which might end up hitting corporate balance sheets in a negative way. Perhaps that's something Jassy is about to find out.
— Victoria Wells, senior editor, Financial Post, and FP Work editor

Do you have thoughts, suggestions or comments you'd like to share with us at FP Work? Please send an email to [email protected]. We'd love to hear from you.
Millions of U.S. workers are missing — where did they go?
Economists are wondering why the labour participation rate in the United States has plunged compared to the pre-COVID-19 days. Some of the theories include excess retirements, lower immigration levels, long COVID and the number of low-wage service workers who never came back when restaurants and stores reopened. Economists also aren't really sure just how many people have gone missing, but believe it's in the millions.
A PUZZLE
---
Advertisement
Job scams are on the rise — here's how to not get burned
Reasonably savvy people used to be able to spot most scams using common sense. But today's scams are surprisingly elaborate, complete with fake company websites, phone or video interviews, and ads that are often indiscernible from legitimate listings. Cybercriminals also aren't afraid to put some time into developing a relationship with a victim if they think they'll give up some cash. Here, experts share their top tips so you can avoid getting scammed.
DON'T GET FOOLED
How immigration and an aging population will affect Canada's housing market
The Government of Canada has raised immigration levels in an effort to bring more skilled workers into the country as the population ages and labour shortages take hold. But all those newcomers will also affect the housing market. Randall Bartlett, senior director of Canadian economics at Desjardins Economics Studies, talks with Down to Business host Gabriel Friedman about immigration's impact on housing, and why Canada needs to build homes much faster than it's doing now.
LISTEN IN
---
Advertisement
In the age of AI, workers have a choice: Learn to coexist with the bots or be rendered obsolete
Artificial intelligence bots such as OpenAI LLC's ChatGPT are now capable of providing complex answers to complicated questions that had previously been the domain of only humans. While AI in the workplace isn't cause for alarm just yet, employees should be aware that their jobs may be in real jeopardy in the future. Legal experts Howard Levitt and Eduard Matei explain the good and bad of AI at work, and how to prepare for the looming prospect of robots coming for your job.
FROM ONE HORSE TO ANOTHER
More Levitt: How executives and boards can navigate tricky questions of compensation
Was this newsletter forwarded to you?
Sign up here to get it delivered to your inbox.
No wearing corduroy to the office: Why a boss's quirks can be a delight
Foreign-trained doctors 6 times more likely to work outside field than other immigrants: RBC
What executive shake-ups at the big banks could tell us about CEO succession planning
Twitter cuts more engineering, product jobs to curb costs
Google subcontractors face low pay, inadequate benefits, union survey finds
Employees' fight for work-life balance forcing cities to adapt to suburban shift
'Everyone is focused': 4-day workweek creates happier employees, higher revenue
Indigo employees' data breached in ransomware attack
Airbus to hire more than 800 workers in Canada this year
How a Canada Revenue Agency strike could impact the 2023 tax season (Ottawa Citizen)
What layoffs? Many employers are eager to hang on to workers (The New York Times)

FP Work is all about teamwork. In addition to the contributions from our top-notch columnists and reporters, recognition goes to the FP web team, which includes Pamela Heaven, Noella Ovid and Gigi Suhanic.

Sign up here for this and other FP newsletters, and please send us your feedback, tips and story ideas.
We want to know what you think about FP Work. Take this quick survey now and share your feedback with us.