View this email in your
browser
Good morning!
Workers in Canada seem to be falling down on the job when it comes to taking good care of themselves, and that's causing their employers to bleed cash.
Workplace productivity is taking a major hit as employees skip work more often or put in less effort because of health issues, says Manulife Financial Corp.'s latest wellness report, which measures worker well-being at Canadian companies. In 2022, individuals missed an average of 48 days of work, either because of presenteeism — showing up but not performing to their full capacity — or not reporting in at all. That's seven more lost days than in 2021. As a result, companies are losing money, with Manulife estimating the toll to be around $645 million per year.
The trend is troubling for employers, many of whom likely expected productivity to turn around once the pandemic eased. "While some productivity loss due to absences and presenteeism is expected, it is concerning to see these numbers have increased year over year, for the past three years," Ashesh Desai, head of Group Benefits at Manulife Canada, says in a news release.
It could also mean bosses will need to invest more money to support workers' health if they are keen to reverse those big productivity losses. Indeed, the survey's results indicate many workers just aren't paying as much attention to their health as they should. For example, their nutrition could be better, given that 71 per cent admit to not eating five fruits and vegetables a day. A lack of sleep is also a problem, with 27 per cent saying they get less than the seven hours recommended by health professionals, and they blame work stress for the shortfall. Employees also aren't exercising enough, with only 40 per cent fitting in a suggested 150 minutes of physical activity each week.
All that neglect is hurting employees, Manulife says, with failure to get enough sleep and exercise proven to erode mental health. Plus, workers may be setting themselves up for a vicious circle of neglect, abandoning physical health needs because their mental health is suffering, and vice versa.
Manulife points to lingering after effects of the pandemic as part of the reason why people are struggling to care for themselves. Younger people are especially impacted, with 18-to-24-year-olds reporting worse metrics for mental and physical health than older workers. "The pandemic put new pressures and strains on Canadians," the report says. "As a result, we're seeing potential effects on their health continue three years later."
Loneliness among employees also remains high, the survey shows, improving over last year, but worsening slightly from 2020. Isolation is known to impact both mental and physical health. The new normal of working from home, which keeps people from regular in-person interactions with colleagues, might be exacerbating the problem, experts say.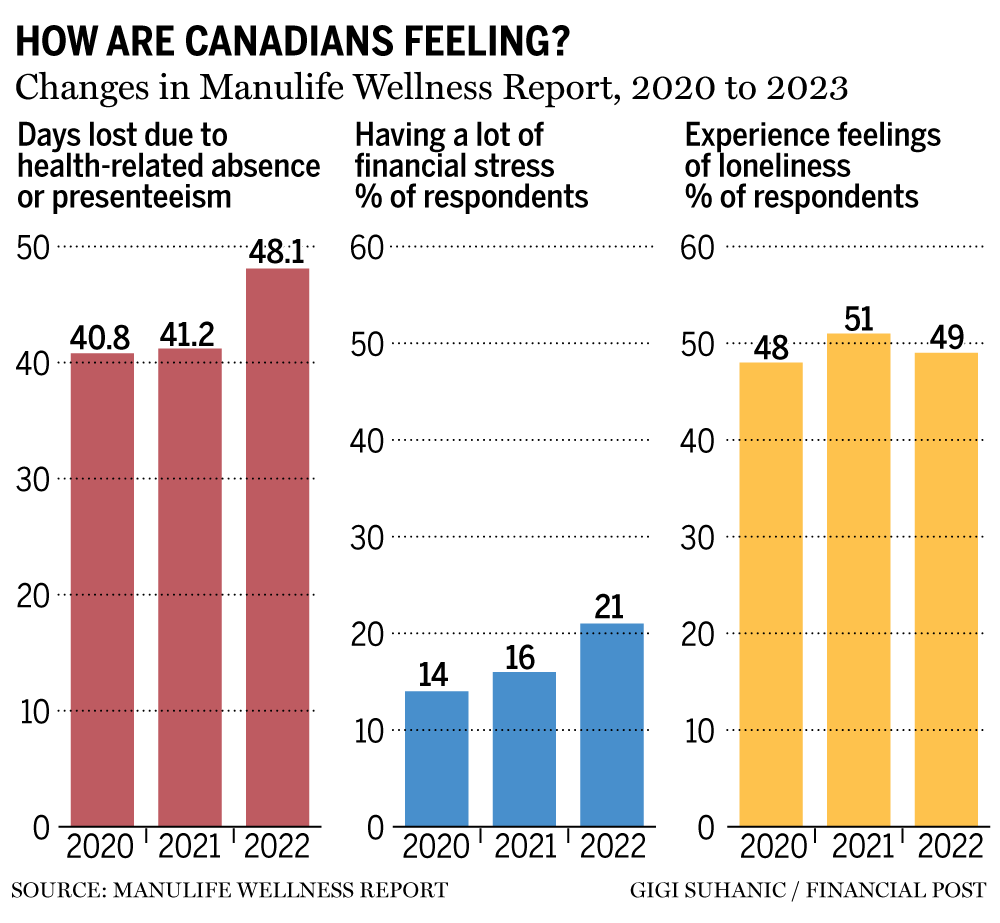 Financial stress could also be a significant factor. The past three years have put people's finances on a roller-coaster, with initial lockdowns resulting in job losses and paycheque cuts for some, and flush savings accounts for others amid fewer opportunities to spend and an influx in income from government benefit cheques. But after the economy reopened and people started spending again, inflation started rising, peaking at 8.1 per cent in June 2022. Everything became a lot more expensive, and the strain hit people's wallets and stress levels alike. According to Manulife, 21 per cent of workers say they're struggling with intense financial stress, up from 16 per cent in 2021 and 14 per cent in 2020. At the same time, 63 per cent of employees worry about money, while 30 per cent spend time thinking about it when they should be working. Hello, productivity losses.
There's evidence all that financial stress is also taking a toll on mental wellness. Canadians' mental health hasn't been this down in the dumps since the start of the pandemic, says Telus Inc.'s latest monthly mental health index. In February, the measure declined the most since April 2020, and inflation and the higher costs of living are likely culprits, Telus says. "Economic changes, on top of existing challenges we've been facing over the past three years, have made nearly half of workers in Canada more sensitive to stress," Paula Allen, global leader, Business & Client Insights at Telus Health, says in a press release.
Many employees are now looking to their employers to help them cope, and want their workplaces to offer assistance programs, automatic savings plans and even free financial advice. It's something employers might want to pay attention to as they seek ways to keep their employees engaged. "Through this period of uncertainty, workers are looking to be supported in ways they may not have been in the past," Juggy Sihota, Telus Health's chief growth officer, says in a release. "It's important for employers to be aware of this shift, and make adjustments that allow them to attract and retain talented workers."
Asking employers to help shore up the personal finances of employees may be a bit too much, but there's proof that supporting workers' health pays off for companies. Manulife says businesses that invest in such supports — and make employees aware of their existence — end up with employees who sleep better and have improved physical and mental health. That's been shown to boost productivity by an extra nine days, the insurer says.
Of course, a gain of nine days doesn't do much to wipe out the whopping 48 days companies are apparently losing each year because of sick and tired employees. Still, it's something. And perhaps it's worth it to bosses anxious to stem balance-sheet bleeding any way they can.
— Victoria Wells, senior editor, Financial Post, and FP Work editor

Do you have thoughts, suggestions or comments you'd like to share with us at FP Work? Please send an email to [email protected]. We'd love to hear from you.
How the great work-from-home experiment fell apart for Big Tech
In the early days of the pandemic, Big Tech was at the vanguard of what was then seen as a long-term revolution in how people work. Google, Twitter Inc. and Facebook were among the first employers to send people home in early March 2020, when registered COVID-19 cases in the United States were in the hundreds. Working from home was here to stay, executives such as Salesforce Inc.'s Marc Benioff declared. Now there's been a shift in thinking across the tech industry, and the consensus is that employees are wanted back at their desks.
'MOTHER OF ALL EXPERIMENTS' ENDING
---
Advertisement
Can AI solve a midlife career crisis?
Human career coaches get mixed reviews, with some people crediting them with rescuing their sanity and others complaining that they're useless. But that hasn't stopped some companies from testing out chatbot career coaches, powered by artificial intelligence, as an option for workers in need of advice. So far, experiments show that an AI chatbot's responses to career questions are mind-numbingly obvious, but they can be strangely satisfying in some cases, says the FT's Emma Jacobs.
A CHATBOT DOESN'T JUDGE
Gig workers beware: Hiding your side hustles from the CRA is asking for trouble
More people have taken on side hustles in the gig economy to make ends meet. But they're not so keen to report their extra income to the taxman. Around 50 per cent plan to hide some or all of their side earnings from the Canada Revenue Agency, according to recent research. However, gig workers might want to think twice about trying to offset inflation by running afoul of the law.
TAX IMPLICATIONS OF GIG WORK

More on reporting employment income:
Backing up expense claims on your taxes could save you from CRA trouble
Artificial intelligence is no longer something that only tech companies do. AI now has the potential to transform business and the economy, says Deval Pandya, director of AI Engineering at the Vector Institute. He talks with the Financial Post's Larysa Harapyn about how AI will shift the way we do business.
WATCH THE VIDEO
Howard Levitt: Employers shouldn't fear giving an honest reference, even if it's negative
Most employers when asked for a reference will do nothing more than confirm a former employee's position and dates of employment. That could be because they believe that saying something negative may lead to actions for defamation. But that fear is largely imported from the United States, and does not apply in Canadian law, says legal expert Howard Levitt. He explains what employers need to know about providing references and what steps employees can take if they end up receiving a negative one.
THE CASE FOR HONEST REFERENCES
More workplace law:
Howard Levitt: Why you shouldn't expect privacy on your workplace devices
---
Advertisement
Was this newsletter forwarded to you?
Sign up here to get it delivered to your inbox.
William Watson: The upside of lockdown was the great WFH reveal
People working in the office spend 25% more time on career development
JPMorgan tells senior bankers to return to office 5 days a week
More than 40% of farm operators to retire by 2033, leaving shortage behind
Federal service workers to strike on Wednesday if no deal is reached, union says (National Post)
Ontario proposes lowering minimum age for lifeguards to 15 to ease staff shortages (National Post)
Work from home but strike in person, union tells federal public servants (National Post)
The R.T.O. whisperers have a plan: A niche group of consultants is trying to get people back to the office. It's not going too well. (The New York Times)

FP Work is all about teamwork. In addition to the contributions from our top-notch columnists and reporters, recognition goes to the FP web team, which includes Pamela Heaven, Noella Ovid and Gigi Suhanic.

Sign up here for this and other FP newsletters, and please send us your feedback, tips and story ideas.
We want to know what you think about FP Work. Take this quick survey now and share your feedback with us.