View this email in your
browser
Good morning!
Friday's blockbuster jobs report provided more proof of a trend that's been taking shape over the past year: women are flooding back into the workforce.
The number of women aged 25 to 54 in the workforce grew by 51,000 in January, pushing their rate of employment up 0.5 percentage points to 82.2 per cent, Statistics Canada says. That's the highest rate since 1976 and up 2.1 percentage points from the same month a year ago. But it's women with young kids who are really jumping into the labour pool. The employment rate for mothers with children under the age of six grew to 76.6 per cent from 72.9 per cent. On average, 75.2 per cent of women with young kids had jobs, up 3.3 percentage points since 2019, Statistics Canada says.
Those figures mark an extraordinary recovery for working women, whose ranks at the start of the COVID-19 pandemic plummeted to depths not seen in decades. In April 2021, the women's participation rate fell to 55 per cent, with 62 per cent of all jobs lost in February and March that year held by women, economist Armine Yalnizyan calculates. In those two months alone, 1.5 million women found themselves out of work, according to the Royal Bank of Canada. Yalnizyan and others feared the resulting "she-cession" would be almost impossible to bounce back from without some kind of child-care plan in place. "There will be no recovery without a she-covery, and no she-covery without child care," Yalnizyan said in the Financial Post in October 2020.
It appears the federal government was paying attention. In its 2021 budget, the Liberals launched a $10-a-day subsidized child-care program, modelled after Quebec's plan and designed to get more mothers back into the labour force. Lower child-care fees — which are expected to have fallen by 50 per cent for most families by the end of 2022 — mean women no longer have to sacrifice whole paycheques to pay for daycare.
The program seems to have been a game changer for many parents. Women with young kids have flocked back to work, but fathers with children under the age of six have also benefited. Their employment rate rose to 93 per cent in January, from 92.2 per cent a year earlier, Statistics Canada says.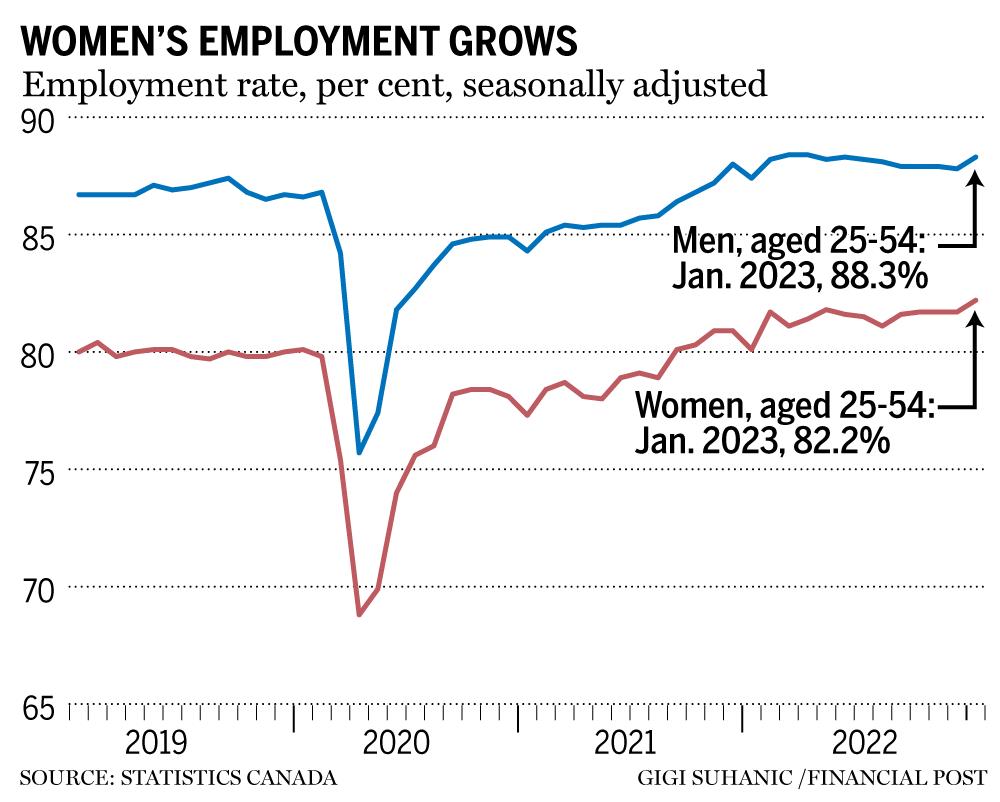 Also fuelling this trend is the new era of flexible work arrangements — including work-from-home options, four-day workweeks and adaptable schedules — something women had been asking for long before COVID-19 came into play. Flexibility matters for women, who are more likely to be caregivers and in need of extra breathing room to balance work and personal responsibilities.
Research shows women are seeking jobs that put flexibility front and centre. Women want to work at home 65 per cent of the time, 13 percentage points higher than men, according to recent research from Abacus Data for The Honest Talk, a podcast that highlights women's issues. Almost three-quarters of women say being able to work remotely is important to them, and 42 per cent say they'd be willing to take a pay cut if it meant they could avoid a commute whenever they want. That's 10 points higher than men.
The Honest Talk says its data prove the shift to flexible work is now non-negotiable for many women. "Building flexibility into our work-life model is critical for keeping women in the workforce," Catherine Clark, co-founder of The Honest Talk, says in a press release.
Employers are taking note and are more willing to offer flexibility, experts say. "Employers are turning a new page where they exhibit more understanding. Because, guess what, employers are human and they understand when you've got different priorities that are surfacing," says Candy Ho, board chair at non-profit career development organization CERIC, and an assistant professor of careers at the University of the Fraser Valley in Abbotsford, B.C. Labour shortages are also likely helping things along. Employers who don't offer some sort of flexibility, where possible, will end up "losing good people," she says.
The time savings from working at home are beneficial for employees and employers alike. The average Canadian saves an hour and five minutes a day by avoiding a commute to the office, according to C.D. Howe Institute research. People are funnelling those extra minutes into their jobs, personal hobbies and caregiving. That's time well spent: more than half believe the pandemic has given their work-life balance a boost and given them more free time, The Honest Talk survey shows, and 42 per cent say it's improved their mental health at work.
But affordable child care and flexibility haven't solved everything. Women earn 93 cents on average for every dollar a man makes, RBC says, and mothers with kids under the age of six make 87 cents for every dollar a father earns. Women are also still underrepresented in high-paying industries such as science and professional services, and occupy only a third of the leadership roles in all sectors.
Governments and employers will need to get more creative to address those gaps to lure more women to work, especially as labour shortages come home to roost in the years ahead.
— Victoria Wells, senior editor, Financial Post, and FP Work editor

Do you have thoughts, suggestions or comments you'd like to share with us at FP Work? Please send an email to [email protected]. We'd love to hear from you.
'Blowout' jobs report raises questions about interest rates' path
Canadian employment reports don't get better than the one Statistics Canada released Feb. 10. Employers — apparently undeterred by an unprecedented surge in interest rates — added 150,000 workers in January, a big number by Canadian standards and it shows an economy pushing through any headwinds. Kevin Carmichael breaks down the numbers and explains how the Bank of Canada may react to the incredibly strong employment report.
HOT LABOUR MARKET JUST WON'T QUIT
More on this story: 'Zero signs of economic stress': What economists say about the blockbuster jobs report
Layoffs keep coming — but the big picture for Canadian tech isn't bad
Despite the wave of job cuts sending tremors through the technology sector in recent months, analysts and HR experts say the bigger talent picture isn't all negative. The layoffs are a drop in the bucket for Canada's massive tech sector after years of talent growth, they say, and startups now have an opportunity to regain some ground in hiring negotiations.
'THERE ARE STILL OPPORTUNITIES'
More on this topic: Apple has avoided job cuts because it didn't overhire like Google and Amazon
---
Advertisement
You're leaving free money on the table if you're not making use of employer-matching programs for your registered retirement savings plan and tax-free savings account, or ignoring your health and wellness benefits. Kelley Keehn, founder of Money Wise Market, talks with the Financial Post's Larysa Harapyn about how to make the most of your RRSP and TFSA investments along with other personal finance topics.
WATCH THE VIDEO
Executives can face extra scrutiny in court for golden parachutes
Can an executive's compensation ever be so high that they can be sued for its return? Can a golden parachute clause, in some circumstances, be a breach of fiduciary duty, unconscionable and unenforceable? Legal expert Howard Levitt examines why executive compensation is getting more courtroom scrutiny these days.
SCRUPULOUS HONESTY NECESSARY
More Levitt: Why playing hardball on employee medical information can backfire on companies
---
Advertisement
Comedians are finding lucrative side hustles as babysitters
Child care is hard to come by, and so are well-paying comedy gigs. Enter the comedian babysitter. Placement agencies and parents are singing their praises as an ideal pool of part-time babysitters or nannies. Comedians say lucrative child-care gigs are more attractive than restaurant work, which can be an inflexible grind, and conveniently require no certification beyond child CPR and first aid training. And the hours fit nicely with their nocturnal regular jobs.
'WORKING WITH CHILDREN IS AN IMPROV SKIT'
Was this newsletter forwarded to you?
Sign up here to get it delivered to your inbox.
CRA denies transit employee's costs from working away from home, gets taken to court
'We're displacing paper': Jobber bucks tech slowdown with $100-million funding round
Opinion: Why is employment still down in these five industries?
Meta asks managers to get back to making things or leave
Opinion: We need a Goldilocks budget and Goldilocks wage deals
Bank of Canada rate hike reflected labour tightness, stronger-than-expected growth
Twitter accused by fired workers of sabotaging severance faceoff
Apple avoids job cuts because it didn't overhire like Google and Amazon
Yahoo will eliminate 1,000 jobs in latest tech workforce cuts
FP Work is all about teamwork. In addition to the contributions from our top-notch columnists and reporters, recognition goes to the FP web team, which includes Pamela Heaven, Noella Ovid and Gigi Suhanic.

Sign up here for this and other FP newsletters, and please send us your feedback, tips and story ideas.
We want to know what you think about FP Work. Take this quick survey now and share your feedback with us.