View this email in your
browser
Good morning!
Layoffs have eliminated more than 235,000 tech jobs since 2022, as the fear of a recession has prompted companies to brace for weaker revenue.
It's a standard play ahead of a downturn. Executives with a fiduciary responsibility to protect shareholders are conditioned to seek costs savings when their outlooks turn bleak. But bosses considering pulling the trigger on arbitrary job cuts might want to think twice, since research shows they probably cause more destruction than good.
"Layoffs are basically a bad decision," says Jeffrey Pfeffer, a professor at Stanford University's Graduate School of Business, in an interview published on the university's website. The long-time layoff researcher says companies that institute job cuts lose money, weaken productivity and inflict mental, physical and financial harm on employees.
There are decades of research to back up Pfeffer's statements. Layoffs are proven to result in lower profitability, according to a University at Texas at Arlington study, and another study found the effects persist for years. Still another study finds companies that cut staff are more likely to end up in bankruptcy.
Some of those profit losses stem from declines in productivity, since cutting staff means there are fewer people around to meet company goals. But the performance of employees left behind also suffers as they deal with a mixture of heightened anxiety, fear and survivor's guilt that affects the quality and quantity of their work. Almost three-quarters of people who watched colleagues get pink slips say their motivation to work has fallen as a result, according to a recent survey by Bizreport.com of United States leaders and employees. Lower engagement is a known productivity killer, so it won't be surprising that researchers have concluded that layoffs result in a 20 per cent loss in productivity.
Job cuts also risk sparking a talent exodus. The people left behind are 7.7 per cent more likely to find a new job within 105 days of the cuts, according to research by HR software maker Visier Inc. Anxious employees who fear layoffs are also a flight risk, and are 50 per cent more likely to plot a move somewhere else within a year, says a survey by Perceptyx Inc., a workplace analytics company. Companies that don't factor in such losses could end up with fewer workers than anticipated, making morale even worse. Organizations are also bleeding experience and knowledge every time an employee walks out the door. Those costs add up, especially when managers must inevitably hire again, which is a challenge when labour shortages are expected to persist for years.
The damage doesn't end there. A company's brand reputation takes a hit after layoffs hit headlines, potentially hurting sales, research shows. Stock prices also get affected. A company's shares may experience a temporary bump in price as investors back cost-cutting measures, but they usually end up suffering in the months and years ahead. Job cuts send a signal that a company is in trouble, researchers say, leading investors to put their money elsewhere.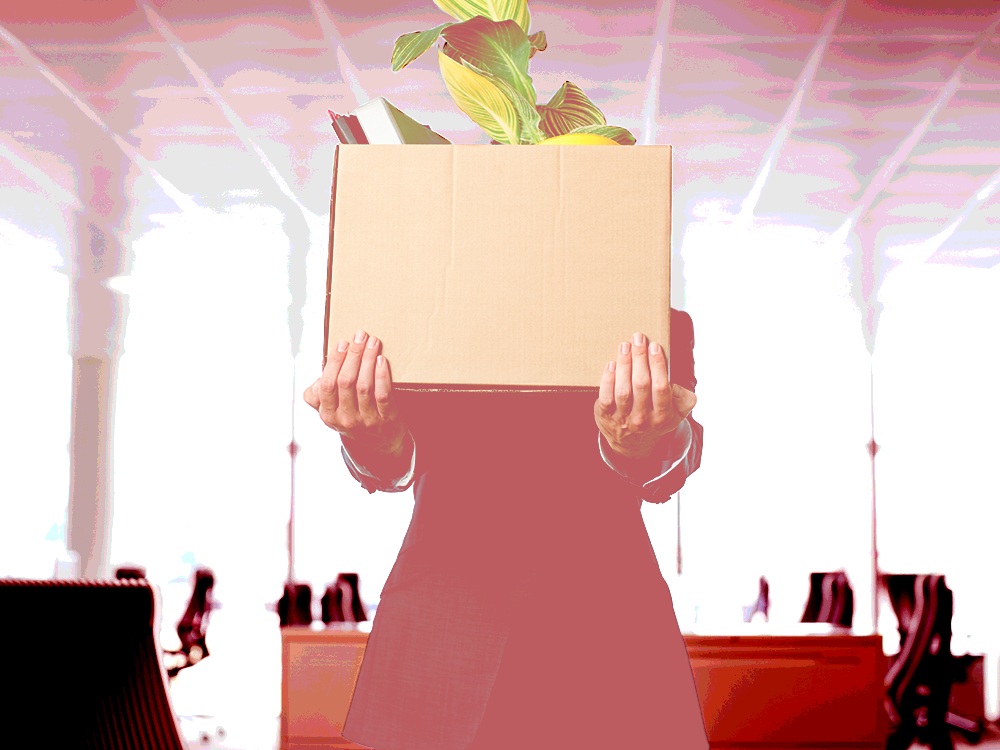 "Layoffs may look good on paper because they have an immediate effect on costs," Adam Cobb, a management professor at the Wharton School at the University of Pennsylvania, says. "Yet in reality there are a lot of costs that layoffs impose on firms that might not show up on an income statement quite as clearly."
Of course, there are often good financial reasons why companies might need to cut jobs. Markets shift, revenue sources appear and disappear, economic hardship bites, and executives are forced to make hard decisions. For companies headed toward bankruptcy, job cuts are necessary to rein in costs.
But implementing layoffs just to put on a cost-cutting show is a different matter. Company impacts aside, poorly thought out cuts have disturbing consequences on the health of workers who have lost their jobs.
"Layoffs kill people, literally," Pfeffer says. People affected by downsizing are 2.5 times more likely to commit suicide, he says. They are also at higher risk of death in general, with mortality rates rising 15 to 25 per cent over 20 years, according to one study. That might be because layoffs cause huge amounts of stress, which go on to trigger physical health conditions. Previously healthy layoff "victims" are 83 per cent more likely to develop a serious health issue such as high blood pressure or arthritis, researchers Sandra Sucher and Marilyn Morgan Westner point out in a recent Harvard Business Review article.
And then there are the financial impacts. Getting laid off doesn't just hurt income in the short term, but it can cut earnings for the rest of people's careers. Workers laid off in the 1980s ended up earning 20 per cent less over 20 years than those who kept their jobs, researchers from Columbia University found.
The negative consequences speak for themselves, yet companies continue to use layoffs as the first line of defence in cost-cutting measures. That's because layoffs are "contagious," Pfeffer says. "If you look for reasons for why companies do layoffs, the reason is that everybody else is doing it."
That effect could be playing out in real time. High-profile cuts at tech and finance companies such as Amazon.com Inc., Alphabet Inc., and Goldman Sachs Group Inc. are spreading to other sectors including retail, forestry and manufacturing.
Yet some employers are holding back the pink slips. For example, Canadian banks are planning to keep staff levels steady, even as their counterparts in the United States slash their workforces. Tech behemoth Apple Inc. has also avoided the job cuts of its peers. Such companies could be factoring in the depth of the recession. A short downturn, as some are predicting, may not necessitate deep cuts, meaning companies that hold the line could end up at an advantage.
There are times when layoffs make sense and restructuring is necessary. But in many cases, they are the result of poor management practices, experts say, and can be avoided with more creative cost-cutting measures. It might be too much to ask executives to consider the mental, physical and financial toll of layoffs on their employees. But at the very least, they might want to think about the consequences for their companies.
— Victoria Wells, senior editor, Financial Post, and FP Work editor

Do you have thoughts, suggestions or comments you'd like to share with us at FP Work? Please send an email to [email protected]. We'd love to hear from you.
Why companies are slapping catchphrases on hybrid work plans
The big debate over hybrid work is settled and it's here to stay. But how to brand the policy is a whole other matter. Employers are coming up with a whole new class of names to promote their flexible-work options, illustrating the various ways companies see the plans shaking out — and how hard it is to get them right. Names include "Flex with Purpose," "Work Your Way," "Work Appropriately" and "New Era of Agility," among others.
DON'T CALL IT A 'RETURN TO OFFICE'
More on hybrid work: Flexible office spaces on the rise with Canadian companies still deciding how to work
Big Tech layoffs are hitting diversity and inclusion jobs hard
Layoffs sweeping the technology industry are gutting diversity and inclusion departments, threatening company pledges to boost underrepresented groups in their ranks and leadership. There has been a diversity and inclusion hiring boom in recent years, but just as tech companies started to make progress, they're now scaling back before fully meeting goals or creating workforces that look like the broader population. It's "not a good look," one expert says.
'CAUTIOUSLY CONCERNED'
---
Advertisement
The Bank of Canada's latest business outlook survey paints a grim picture for inflation and the economy in the year ahead. Starlight Capital chief executive Dennis Mitchell talks to the Financial Post's Larysa Harapyn about the survey results, and explains why he thinks Canada isn't headed for a deep recession.
WATCH THE VIDEO
Think your company needs a youth movement? Best to tread carefully
It is no secret that employers have hiring preferences. Usually, these come in the form of qualifications and geography, but sometimes the preferences involve age and gender. Companies are usually less open about these. Why? Because they can land employers in hot water and run afoul of human rights law, say legal experts Howard Levitt and Kathryn Marshall. They explain why a hiring initiative targeting workers under 30 from luxury retailer LVMH Louis Vuitton Moët Hennessy to attract gen Z shoppers could have unintended consequences.
KNOW THE RISKS
More Levitt: Can my boss change my hours and other burning workplace law questions
---
Advertisement
Was this newsletter forwarded to you?
Sign up here to get it delivered to your inbox.
Twitter sued by two ex-employees in Ontario, alleging mistreatment during mass layoffs
Workers who need to be on site 5 days a week are getting big pay raises
Why Tip Top Tailors is betting on spiffy suits to help it weather economic downturn
Remote work saves commuters 72 minutes a day, study finds
Canada's big banks expected to buck U.S. layoff trend, hold onto staff
Best Buy trims jobs as sales of electronics slump following pandemic surge
Hudson's Bay to lay off 2% of workforce, largely within Canada
Oilsands' carbon capture moonshot faces hurdle of scarce labour
Ottawa's energy jobs transition sparks discord in oilpatch heartland as political lines are drawn
Strike votes to be held in February for 120,000 public servants (Ottawa Citizen)
The digital workplace is designed to bring you down (New York Times Magazine)

FP Work is all about teamwork. In addition to the contributions from our top-notch columnists and reporters, recognition goes to the FP web team, which includes Pamela Heaven, Noella Ovid and Gigi Suhanic.

Sign up here for this and other FP newsletters, and please send us your feedback, tips and story ideas.
We want to know what you think about FP Work. Take this quick survey now and share your feedback with us.