View this email in your
browser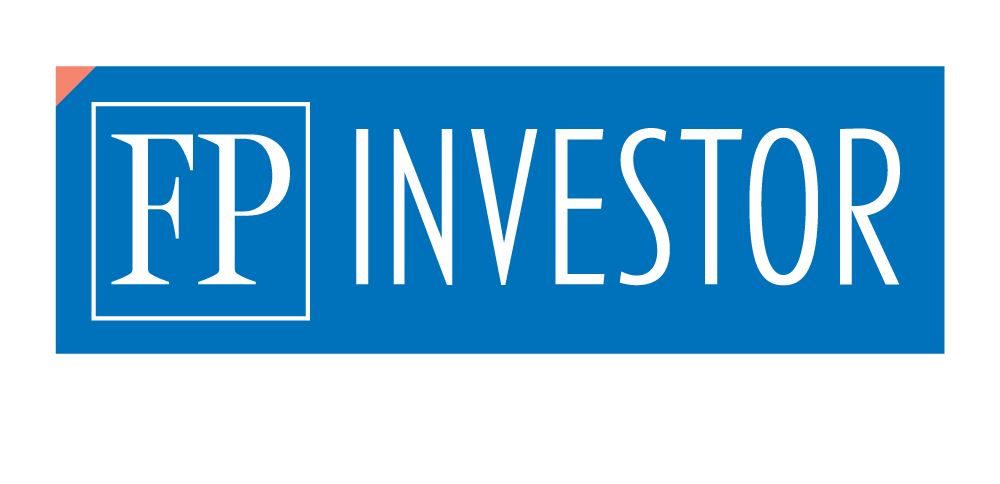 Good morning and welcome to a false spring, at least if you live in southern Ontario and believed Wiarton Willie's Groundhog Day prediction that an early end to winter was in the cards. It's freezing down here and we're getting more snow now than we did during the first half of these hibernal times. It's downright silly to believe in a groundhog that has a 50-per-cent chance of being right, but we often believe in things with far less chances of being correct, such as the Maple Leafs winning the Stanley Cup or cryptocurrency schemes.
"I am in total shock and extremely angry at myself for being so naive and trusting," Valerie, a Toronto woman who lost $9,000 to a crypto-fraudster she met on a dating app, tells the crowdfunding website GoFundMe. "All because of me always seeing the good in people."
The Canadian Anti-Fraud Centre believes most of the $164 million Canadians lost to investment fraud in 2021 was due to cryptocurrency scams, though it doesn't keep exact statistics on the differing types of losses. So far this year, it's reported 3,923 victims of fraud to the tune of $43.6 million. Worldwide, almost US$6 billion was lost to cryptocurrency scams in 2022, according to ChainAnalysis Inc.'s 2023 Crypto Crime Report, but that's only a fraction of the real number since most people are too embarrassed to admit they fell for something so obvious.
The latest scam technique is called pig-butchering, which uses fake statements and investment platforms to make victims think their investment has returned a large profit so they put in even more money. "These scammers target victims through any means possible, including social media messaging, dating apps and texting platforms," says cryptocurrency scam expert Matthew Stern. There's even an entirely separate group of fraudsters known as recovery scammers, who promise they can get your lost funds back — for a fee.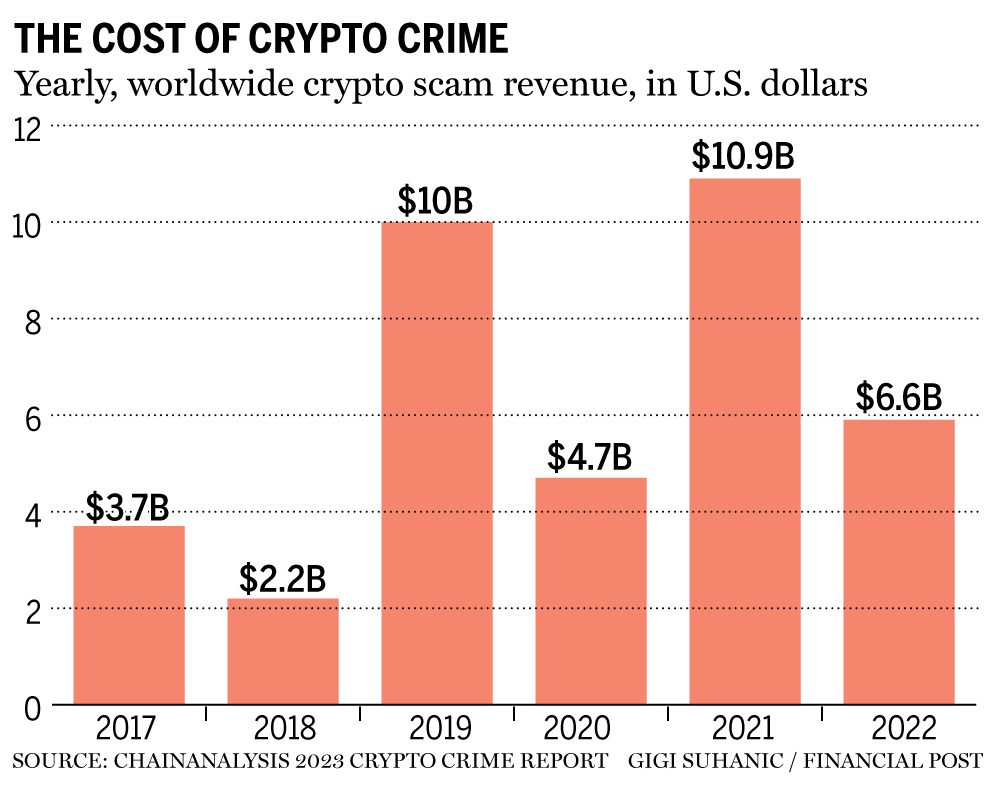 It all sounds like a modern take on Ponzi and pump-and-dump schemes. Memories of Howe Street, perhaps, if you're old enough to remember the penny-stock shenanigans on the now-defunct Vancouver Stock Exchange. And yet almost a third of Canadians were planning to buy cryptocurrency assets and 13 per cent already had even though most lacked a working knowledge about the practical, legal and regulatory particulars of owning them, according to an Ontario Securities Commission survey published in October.
Even big investors — the so-called smart money — can get caught up in the enthusiasm of a newfangled investing scheme. Ontario Teachers' Pension Plan invested US$75 million into the now-bankrupt FTX International and its American entity, and Caisse de dépôt et placement du Québec, which manages several pension plans in la belle province, has written off a US$150-million investment in bankrupt Celsius Network LLC.
"You want to really think about what the underlying intrinsic value is of some of these assets and build your portfolio accordingly," CPP Investments chief executive John Graham said in a speech last June while explaining why Canada's biggest pension plan wasn't jumping into cryptocurrency like other institutional investors.
But it seems some big players are likely to be repeat offenders when it comes to chasing glory. "Sometimes the bubble moves from one place to the other, the money has to go somewhere," one venture-capital investor who bet big on cryptocurrency says about funds now being dumped into artificial intelligence companies. "During these hype cycles there will be many things which are overvalued. There are many toys." I wonder if Wiarton Willie is screaming, too?
Andy Holloway, editor of the FPI and Financial Post Magazine, and senior features editor of the Financial Post. If you have any quips, queries or comments, get in touch at [email protected].
---
Advertisement
5 investor tactics and behaviours I wish I could figure out
Even if you knew everything, you might still not make any money when investing. Many times — more so than not — investors do not do the rational thing, so they'll zig while you zag. Despite decades in the business, Peter Hodson admits there are plenty of things happening in the investment world today that he just doesn't get. Here are five of them.
A HANDFUL OF TROUBLE
3 factors affecting our currency that will hurt Canadians for years to come
The Canadian dollar is hovering around 72 cents U.S., as anyone who has travelled south will surely have noticed. Portfolio manager Martin Pelletier says the days of parity may be long gone and offers three reasons why the weaker, range-bound dollar might be something we all need to get used to.
LOONIE TUNES
Forget peak oil demand: A thirst for barrels puts $100 in view
The global demand for oil is only going to keep rising as China slowly gets back into action, putting further pressure on the supply side, which was already having trouble keeping up due to a slowdown in shale growth in the United States, lacklustre investment in production and Russia's invasion of Ukraine. As a result, everyone from Goldman Sachs Group Inc. to trading powerhouse Vitol Group is predicting oil will jump back over US$100 a barrel later this year.
A SLICK RALLY
FP 500 — The most authoritative survey of corporate Canada: The 2022 FP 500 is the only national ranking of the country's public, private and Crown corporations, making it an indispensable research tool with vital data on Canada's top companies across all sectors. Order your copy here.
---
Advertisement
What comes next after a peak yield curve inversion? Nothing good
The bellwether 2s/10s yield curve is now going into its ninth month of inversion. The average for all prior cycles over the past five decades is nine months and the median is eight months. Economist David Rosenberg says we are essentially at or near peak inversion in both duration and magnitude, so every investor should be asking what comes next and what that means for their portfolios.
BONDS OVER STOCKS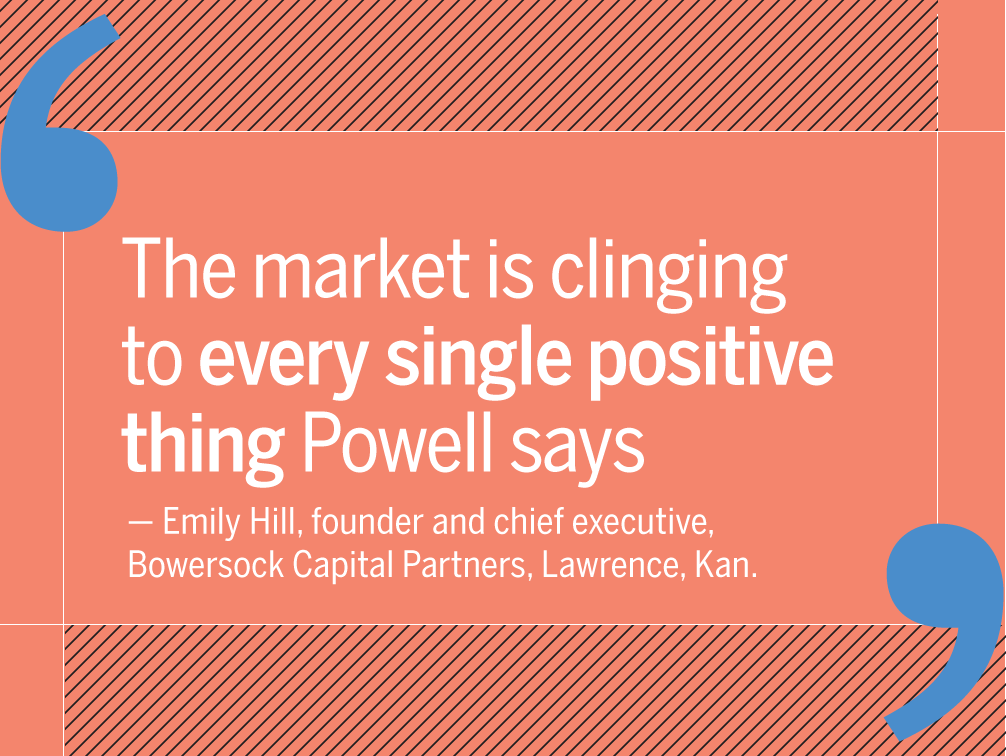 United States Federal Reserve chair Jerome Powell apparently threw investors a curveball on March 7 when he told the U.S. Senate Banking Committee that more rate hikes will be necessary to staunch inflation. The Dow Jones dropped 1.72 per cent following his remarks and kept on sliding even though no one should have expected him to say otherwise given the clues Fed officials have been dropping. But that was just the first of four events that will determine the U.S. market's direction, with the February jobs report on March 10, the consumer price index on March 14 and the Fed's next policy decision on March 22 being the other three. Stay tuned.
How do I determine when to claim my rental condo repairs as an expense?
Investing in hard real estate comes with costs that other asset classes don't have, specifically equipment repairs and replacements. One reader wonders how best to claim those capital expenses to maximize the tax benefits. Certified financial planner Andrew Dobson says there isn't a general rule, but lays out several considerations when determining whether to claim a capital cost allowance now or defer it.
GET THE ANSWER
If you have an investing or personal finance question, hit us up at [email protected].

The Canadian housing market is moving toward more balanced conditions as interest rates slow their ascent and prices come down. "Your monthly carrying costs are pretty similar to what they were before rates started climbing and it appears consumers have clued into that," Chris Alexander, president of Re/Max Canada, tells the Financial Post's Larysa Harapyn. "We're starting to see some greater activity in the marketplace than even I was expecting at this point in the year. The troubling thing we're seeing right across the country in most major markets is that inventory levels are shockingly low."
WATCH THE VIDEO
High interest rates mean you don't want to be late this year if you pay income tax by instalments
Two million Canadians pay tax in quarterly instalments, the first of which for 2023 is due March 15. Tax expert Jamie Golombek says there's even more reason not to be late this year since the arrears interest rate will be the highest in 15 years. Here's what you need to know to keep the Canada Revenue Agency off your back and out of your pocketbook.
DON'T GIVE THE CRA AN IOU
Borrowing against life insurance can be a unique source of cash — if you can do it
There is no way to borrow against term life insurance in Canada, but wealth advisers Ted Rechtshaffen and Asher Tward say it is possible using permanent life insurance with cash values, usually whole life and universal life, which is meant to cover some things beyond just risk management. That can be helpful for tax, estate planning and even as an investment asset class.
PAY WITH YOUR LIFE
How the magic of a three-paycheque month can give you a financial head start
Most of us should have an idea about which bills need to get paid every time we get a paycheque, but those of us who get a biweekly paycheque end up getting a third monthly paycheque twice a year and March is that month for many. Debt counsellor Sandra Fry offers several ways to spend that "extra" money to kickstart an improved financial picture.
GOOD THINGS COME IN THREES
4 keys to having money conversations that can help keep your marriage healthy
About one-third of adults with partners report that money is a major source of conflict in their relationship, so it's pretty clear that discussing finances with your spouse can be a daunting task. Money is sometimes a highly emotional and taboo topic, so wealth and investment adviser Susan O'Brien offers some ways to make such conversations a little less daunting.
YOU CAN'T HAVE ONE WITHOUT THE OTHER
Canadians' outlook on the economy is deteriorating as evidenced by the reading of 85 on the latest Maru Household Outlook Index, which matched its lowest reading ever and is well off its high of 107 recorded in July 2021. The index was 87 in January and 88 in December. "The key thing is that people are concerned about the amount of savings they have," says John Wright, executive vice-president of Maru Public Opinion. "It doesn't look like they have a lot on hand."

Good news for Canadian mining investors: The federal government may be curtailing Chinese investment in Canadian miners of minerals such as lithium needed to power electric vehicles, but it has now invested a combined $14 million into FPX Nickel Corp., Search Minerals Inc., E3 Lithium Ltd., Sherritt International Corp. and Geomega Resources Inc. as well as privately held Prairie Lithium Corp.
Bad news if you like the Big Six: Most of Canada's biggest banks beat expectations in the first quarter, but analysts don't seem particularly thrilled. "In our view … conditions need to become worse before they get better," says National Bank of Canada analyst Gabriel Dechaine, noting headwinds such as a possible recession, net interest margin compression, loan growth deceleration and expense inflation. "It is still early for us to turn bullish on the sector."
Good news if you like a good old-fashioned boardroom brawl: Skky Capital Corp. has requisitioned a Canaccord Genuity Group Inc. shareholder meeting to remove Gillian Denham and three other board members who are standing in the way of a leveraged buyout by management, which has offered to take the firm private for $11.25 a share, slightly below its current price.
Bad news if you're a Tesla Inc. shareholder: The electric-vehicle maker continues to slash prices to entice people to buy and one of its biggest bulls now says Ferrari NV is a better option for investors. Morgan Stanley's Adam Jonas says the Italian luxury-car maker has the "longest order backlog, greatest earnings visibility and highest pricing power of any company we cover."
Good news if you like rate pauses: The Bank of Canada on March 8 stuck to its near-promise to pause interest rate hikes, keeping the benchmark at 4.5 per cent. Of course, investors pay more attention to the United States Federal Reserve, which is now widely expected to hike rates again at its next meeting by at least 25 basis points and maybe even 50.
Bad news if you live in a small town: The decline in housing sales and prices is hurting you more than your big-city cousins. "Many smaller centres saw the most eye-popping price gains during the pandemic and are now experiencing the most significant home value declines as the housing correction proceeds," say Desjardins economists Randall Bartlett and Marc Desormeaux.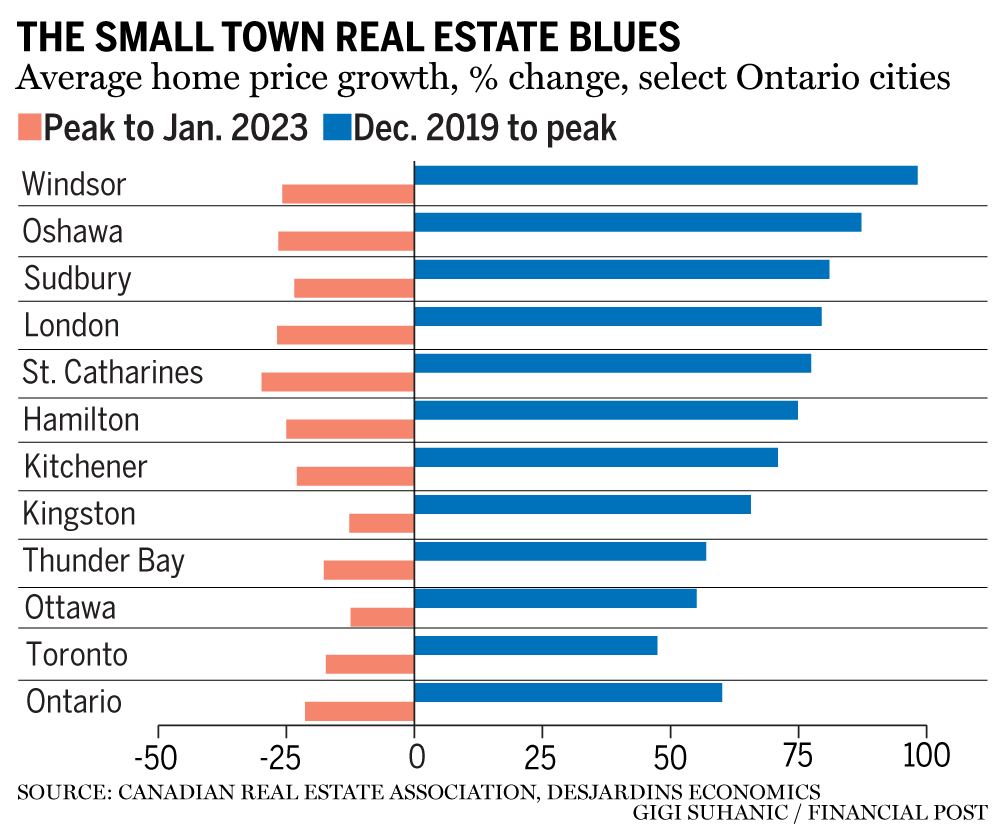 Was this newsletter forwarded to you?
Sign up here to get it delivered to your inbox.
We want to know what you think about FP Investor. Take this quick survey now and share your feedback with us.