View this email in your

browser
Good morning,
Canadians are paying more in taxes, leading many to say they're forking out too much for what they get, new research suggests.
The average family paid 45.2 per cent of their income in taxes to federal, provincial and local governments in 2022, estimates the Fraser Institute in its latest Tax Freedom Day report. That number is a big jump from the study's start in 1981, when Canadians paid 40.8 per cent of income on taxes, the think-tank said.
A family's average tax bill goes beyond a yearly income tax payment to the Canada Revenue Agency, and is made up of fees such as sales taxes, property taxes, fuel taxes, payroll taxes and more.
Curious to see how Canadians feel about this growing burden, the Fraser Institute conducted a poll in partnership with Leger, and discovered that people aren't exactly happy with how much they're shelling out.
Almost three-quarters of the 1,554 people polled said the average family's tax bill is too high, and 80 per cent said it should amount to 40 per cent or less of income. More than half think the toll should be even less than that, and are willing to pay only 25 per cent or less of their total income to all three levels of government. A mere six per cent said the average bill should be 40 per cent or more of a family's income.
Higher income households that make between $125,000 to $150,000, were more likely to say Canadians are paying too much in taxes, and 80 per cent agree the bill is too high. On the flip side, people who make $20,000 or less each year were less likely to say Canadians are overtaxed. However, a majority, at 64 per cent, still called families' tax burdens "moderately too high" or "too high."
The responses also held up over age groups, though people aged 35 and over were slightly more likely to say families are getting overtaxed.
"There is a large discrepancy between what the average family pays in total taxes versus what Canadians believe the average family should be paying," Jake Fuss, associate director of fiscal studies at the Fraser Institute, said in a press release.
What's more, people aren't exactly thrilled with the services they're paying for with those tax dollars. Close to half say the value of government services they receive, such as health care, education, and even defence, are "poor" or "very poor." Only 16 per cent think those services are "good" or "great."
"It's clear that many Canadian families don't believe they're getting value from their taxes," Fuss said.
The poll provides important insights into how people feel about Canada's current tax regime, the report detailing the survey results said, and should give all levels of government an incentive to address their policies.
"Tax relief should be a much higher policy priority, given the overwhelming view that the average Canadian families are overtaxed, coupled with weak support for the value Canadians receive in government-provided services," Fuss said.
Last year, the Fraser Institute pegged June 15 as Tax Freedom Day, or the day that Canadians stop working to pay governments, and begin working for themselves.
---
Advertisement
Was this newsletter forwarded to you?
Sign up here to get it delivered to your inbox.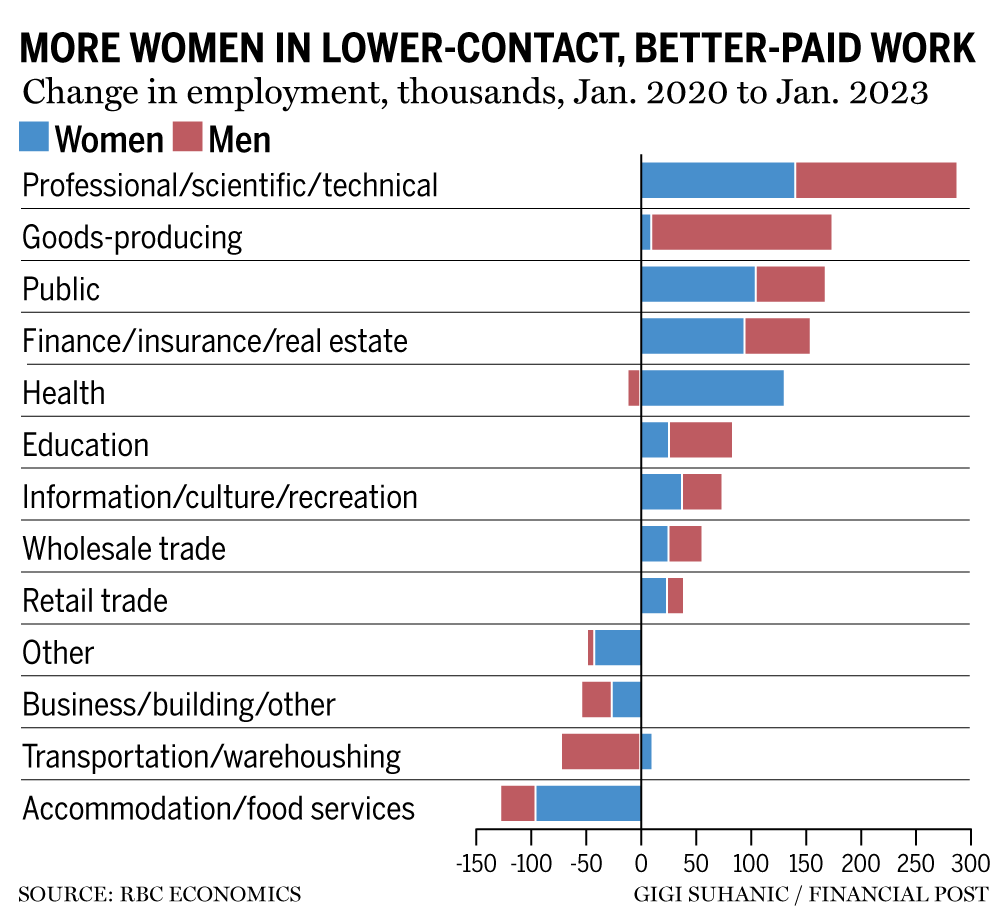 Working-aged women have made significant career changes since the pandemic stated, which has led to the highest level of workforce participation on record.
They've exited high-contact industries, namely restaurants and hospitality, in droves, as they sought more stable employment in low-contact sectors such as professional, scientific and technical services and finance, insurance and real estate. Pre-pandemic, women made up roughly 55 per cent of workers in high contact-industries, but made up 80 per cent of those who fled those jobs during the crisis, according to a Royal Bank of Canada report released on March 7.
But even though women made professional gains, their earnings didn't keep pace. In finance, insurance and real estate jobs, women accounted for three-fifths of workers and less than half, or 46 per cent, benefited from sector-wide wage increases.
A persistent pay gap between men and women may in part be explained by discomfort in asking for a raise, suggests a new survey by jobs website Indeed, and released March 8 to coincide with International Women's Day. The Financial Post's Bianca Bharti reports on the findings, which suggest women could get the raise they want, if only they'd ask. Read the story.
Banks beat the street, but can they outrun the downturn?
Small businesses face triple threat of inflation, recession and looming pandemic loan deadline
Safety Net: Crypto scams are duping thousands of Canadians, leaving them despondent and broke

David Rosenberg: What comes after a peak yield curve inversion? Nothing good

Rage applying is the new quiet quitting for employees who feel underappreciated
'We can catch up': At PDAC, new optimism critical minerals gap with China can be closed
"Truth be told, I think it will have absolutely no impact on our business or anybody else's business or the consumer outcome"
— Maple Leaf Foods Inc. chief executive Michael McCain on whether a grocery code of contact is a waste of time. McCain gave testimony on March 6 at the House of Commons agriculture committee, which is conducting an inquiry into whether Canada's largest grocery chains took advantage of the inflation crisis to pad their profits.
Bank of Canada overnight rate policy announcement




United States Federal Reserve chair Jerome Powell testifies to the House Financial Services Committee on the Monetary Policy Report




Mary Ng, minister of international trade, export promotion, small business and economic development, will announce recipients of funding through the Women Entrepreneurship Strategy

Filomena Tassi, minister responsible for FedDev Ontario, will make an announcement in support of women entrepreneurs in Ontario. Mona Fortier, president of the Treasury Board and Liberal MP for Ottawa—Vanier, will also be present

The standing committee on agriculture and agri-food meet on food price inflation. Michael Medline, president and CEO of Empire Co. Ltd.; Galen Weston, chairman and president of Loblaw Co. Ltd.; and Eric La Fleche, president and CEO of Metro Inc., appear as witnesses

The Broadbent Institute holds its 2023 progress summit

The Toronto Regional Real Estate Board hosts their 2023 market outlook and 2022 year-in-review event in York Region

Dale Nally, minister of service Alberta and red tape reduction, will introduce legislation that cuts red tape

Harley Finkelstein, president of Shopify; and Jeff Hoffmeister, chief financial officer of Shopify, will participate in a fireside chat at the 2023 Morgan Stanley Technology, Media and Telecom Conference

Today's data: Canadian merchandise trade balance; U.S. ADP national employment report, goods and services trade balance, job openings and labour turnover survey
Earnings: Linamar Corp., Spin Master Corp., Vermillion Energy Inc., Peyto Exploration & Development Corp., Trulieve Cannabis Corp., Transcontinental Inc., Adidas, Campbell Soup Co.
Your parents are so proud: you've finally hit that six-figure income sum after so much hard work, something they may only ever dreamed about. Or if they did, they knew they had made it. But though that $100,000 salary may have been more than enough for baby boomers to live a rich life, today it can hardly be enough to get by. Our content partner MoneyWise delves into why younger Canadians are feeling the squeeze, despite high salaries — and what they can do to claw back some of their buying power without having to negotiate a raise.
Today's Posthaste was written by Victoria Wells, @vwells80, with additional reporting from The Canadian Press, Thomson Reuters and Bloomberg.
Have a story idea, pitch, embargoed report, or a suggestion for this newsletter? Email us at [email protected], or hit reply to send us a note.
Sign up now for FP's lineup of free, in-depth newsletters: Energy, Finance, Work and Investor