View this email in your

browser
Good morning,
Small businesses say the federal carbon tax is "unfair" and are pushing back against planned increases, saying the added expense could ultimately force them to raise prices, according to a report from the Canadian Federation of Independent Business (CFIB).
Small and medium-sized businesses are major contributors to the federal carbon tax, and since 2019 have remitted almost half of the $22 billion in revenue the carbon tax has brought in, the report said. But, while consumers have received rebates for their contributions, small business owners haven't been as lucky. CFIB estimates that a mere 0.17 per cent of carbon tax revenues — or $35 million — were returned to entrepreneurs between the fiscal years of 2019-20 and 2022-23. Consumers, on the other hand, get 90 per cent of carbon revenues back, CFIB said.
Meanwhile, promises that 10 per cent of carbon tax revenues would be returned to entrepreneurs to make energy-efficient upgrades haven't yet materialized, making the regime even more unfair to small business owners, the report said.
The federal carbon tax is a fee tacked on to the price of gasoline and natural gas to help bring down CO2 emissions and was launched in 2019 at a price of $20 per tonne of emissions. Alberta, Saskatchewan, Manitoba and Ontario are all signed on to the regime, with Nova Scotia, New Brunswick, Newfoundland and Labrador and Prince Edward Island joining on July 1.
Each year since 2019, the price of the tax has gone up by $10, and reached $50 a tonne in 2022. This year, however, the price will start rising by $15 a tonne per year, ultimately reaching $170 a tonne by 2030. That means that on April 1, the carbon tax will rise to $65 a tonne, a 23 per cent increase from last year.
CFIB estimates that the federal government will raise $8.2 billion from the levy in the 2022-2023 fiscal year alone.
Meanwhile, small businesses say the fee — and every increase to come — is making the cost of doing business more expensive.
"Small businesses in Canada are already struggling with increased costs, and the carbon tax is adding to their burden," Jasmin Guenette, vice president of National Affairs at CFIB, said in a news release.
Perhaps it's no surprise, then, that more than half of small business owners say they aren't in favour of carbon taxes in any form. And they're especially wary about the future, expecting the burden to only get worse as the price ticks up. For example, once the tax reaches $170 a tonne in 2030, 56 per cent of business owners say they will be forced to boost prices. They also expect the higher tax to impact overall operations. Forty-five per cent believe they will be forced to freeze or lower employee wages and 40 per cent expect they'll need to cut back on business investments.
That's not to say small business owners don't support climate change initiatives. Almost half of small and medium enterprises are in favour of lowering carbon emissions by between 40 and 45 per cent of 2005 levels by 2030, CFIB said. Forty-four per cent are also in favour of bringing emissions to net-zero by 2050. But most believe there is a better way to do that, besides taxing fuel.
"Our research shows business owners care about the environment and take proactive steps to reduce their environmental footprint," said Taylor Brown, CFIB senior policy analyst, in a news release. "But to date, they have received little or nothing at all in carbon tax revenues from the federal government."
"Businesses want their money back," he added.
To give small businesses some relief, CFIB is calling on the federal government to freeze the carbon tax at the 2022 level. It's also calling on Ottawa to return $2.5 billion in revenues to small business owners, and also reconsider the regime altogether.
"Small and medium-sized businesses play a vital role in the Canadian economy, and it is essential that any carbon pricing policy considers their unique needs and challenges," the report said.
---
Advertisement
Was this newsletter forwarded to you?
Sign up here to get it delivered to your inbox.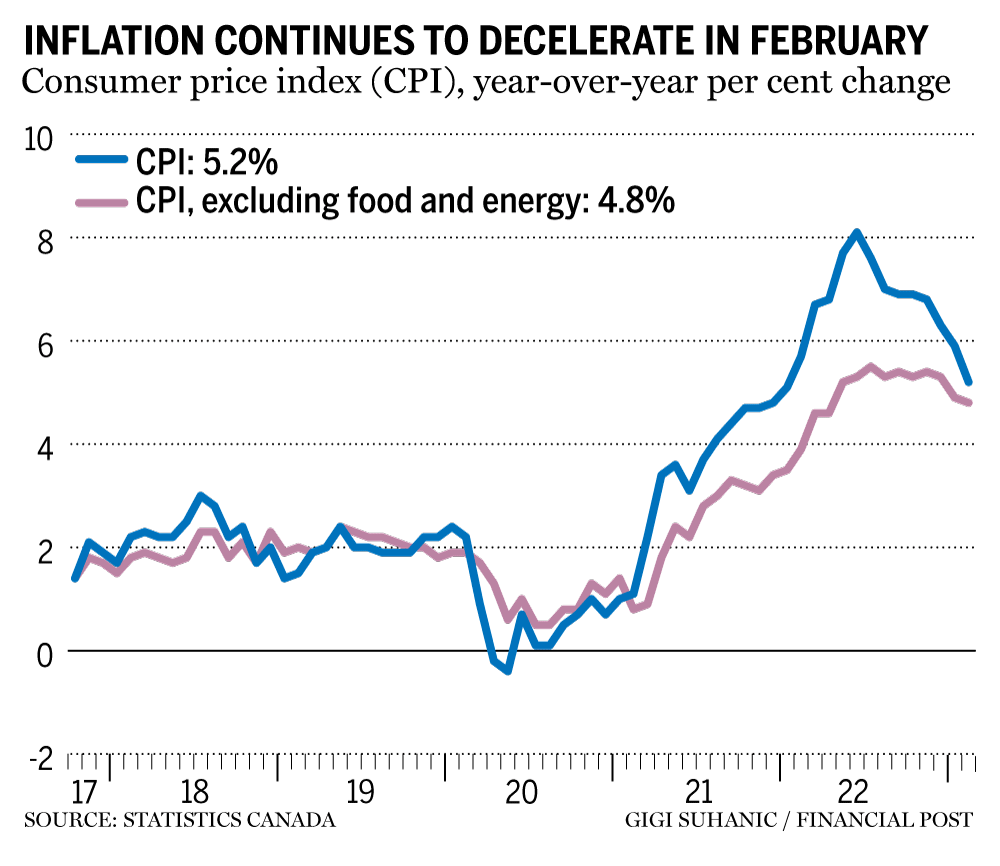 Inflation is finally slowing in Canada as the consumer price index increased 5.2 per cent in February from a year earlier, Statistics Canada said on March 21. That's slower than the 5.9 per cent year-over-year increase in January. The core reading, which strips out volatile food and energy costs, grew 4.8 per cent from February 2022.
Those numbers put inflation at around the same place it was at the start of last year, when some economists warned the Bank of Canada was waiting too long to start raising interest rates, writes Kevin Carmichael. That's good news for the central bank, which said it was keeping rates on hold at its last meeting so it could assess the impact of previous hikes on inflation. But inflation is still too high, with the Bank of Canada's inflation target at two per cent.
What does it all mean for interest rates? They are likely to stay on hold at the central bank's next policy decision, Carmichael writes. At the same time, central bankers are still likely to be concerned that inflation could get stuck at the top end of their comfort zone. The latest numbers won't alleviate those concerns. Get Carmichael's full analysis here.
Industrial policy is back in vogue in push for Canada to win on green economy

Policy wonks are urging the Canadian government to create a concrete framework to guide the billions of dollars promised to automakers, battery manufacturers and others to accelerate the shift to a greener economy
Housing market is not as grim as some forecasters are suggesting

Recent housing forecasts paint a conflicting picture of where markets are heading, but real estate experts Murtaza Haider and Stephen Moranis argue that the long-term outlook is one of resilience
What economists say about Canada's slowing inflation

Inflation continued to slow in February, but is it enough to keep interest rates on hold? Read what economists have to say about the latest CPI reading and what it means for the Bank of Canada's rate path
Laid off by email: Companies turn colder on job cuts in remote-work world

The days of learning you've been laid off in a meeting with your boss appear to be disappearing as companies — especially in the tech sector — turn to increasingly impersonal methods to cut jobs
"It was inevitable that hiking rates now would break something, just as it was inevitable (in 2008) that hiking rates and cracking down on crappy mortgages would break something"
— Steve Sosnick, chief strategist at Interactive Brokers, on the parallels between the 2008 financial crisis and today's banking woes. There are important messages to be gleaned from the first-hand accounts of veterans of the 2008 crisis. Read some of them here.

---
Advertisement
The Bank of Canada posts its summary of deliberations on its March 8 policy decision on its website




The United States Federal Reserve will release its latest interest rate decision, with a press conference by chair Jerome Powell to follow. Traders and economists are betting the central bank will raise rates by 25 basis points. Inflation still remains too high for the Fed's liking, the thinking goes, even as further interest rate increases threaten to tip the economy into a recession, and amid volatility in financial markets brought on by the collapse of Silicon Valley Bank. The Fed's decision will be released at 2:30 p.m., and the Financial Post will provide live coverage




First Nations Finance Authority, joined by chiefs and leaders from communities across Canada, will hold a news conference in Ottawa at 12:30 p.m. ET to recommend a new approach in the upcoming federal budget so that First Nations can begin to bridge the infrastructure gap now

Read about their plan in this op-ed for the Financial Post by Ernie Daniels, president and CEO of the First Nations Finance Authority

Saskatchewan to release its budget

Earnings: Quarterhill, Osisko Metals
More than 40 per cent of marriages in Canada end in divorce, which can be an emotionally charged life transition since your lifestyle, housing and financial goals can all be upended, making the process of separating finances onerous and exacerbating. Ida Khajadourian, a portfolio manager and investment adviser at Richardson Wealth, offers some tips to help you prepare your finances and protect your assets if you're going through a divorce.
YOU'RE NOT ALONE
Today's Posthaste was written by Victoria Wells, @vwells80, with additional reporting from The Canadian Press, Thomson Reuters and Bloomberg.
Have a story idea, pitch, embargoed report, or a suggestion for this newsletter? Email us at [email protected], or hit reply to send us a note.
Sign up now for more of FP's free, in-depth newsletters