View this email in your

browser
Good morning,
Canadians are shifting their idea of what retirement looks like as they save less amid a higher cost of living, new research suggests.
Retiring at 65 to enjoy a life of leisure appears to be a thing of the past for many, and half of Canadians say they'll need to work part-time in the gig economy after leaving their primary careers to pay their bills, according to a recent poll from H&R Block Canada Inc. That comes as 52 per cent say they don't have anything left over at the end of the month to devote to retirement savings. One in 10 admit to having saved nothing for retirement at all.
At the same time, people are aiming to retire younger. Close to half want to quit their jobs before turning 64. Yet, there are others who think retirement will be completely out of reach, with 36 per cent of those between the ages of 18 and 54 believing they'll never be able to stop working. That might be why so many are looking to the gig economy, which allows people to take on part-time side hustles driving passengers or delivering groceries or restaurant take-out, to help them fill the gap.
Many are also betting that employer and government pension plans will keep them afloat in their old age. Thirty-seven per cent say they have access to a pension from work, while 19 per cent say they'll need to rely on government pensions, such as the Canada Pension Plan, to make ends meet.
"Not so long ago, the traditional vision of retirement was that at around 65 years old, Canadians 'hung up their hats' and celebrated the end of full-time employment," Peter Bruno, president of H&R Block Canada, said in a press release. "What we're seeing now is that the vision for retirement has evolved dramatically, fuelled by shifts in tax-friendly savings plan options, evolving workforce realities, the gig economy and the prevailing economic environment."
High inflation and elevated interest rates have made it more difficult for people to stretch their dollars to go to savings. This year, 65 per cent say they'll be putting less into their registered retirement savings plans (RRSPs) and tax free savings accounts (TFSAs). Further, more than half admit to not understanding how to make the most of those government retirement savings vehicles, even though most believe RRSPs and TFSAs are needed in a good retirement plan.
But failing to maximize those accounts could be a big mistake, especially in a challenging economic environment where every penny counts.
"There is no one-size-fits-all retirement plan or strategy for Canadians, but regardless of your personal situation, having a good understating of your options and how tax-friendly savings plans work is key," Bruno said.
So, too, is understanding how to take advantage of government tax credits and changes to "maximize your tax return and minimize your taxable income," he added.
This year there are a number of changes for people to consider when it comes to retirement planning, H&R Block Canada said. For example, the contribution limits for RRSPs and TFSAs have gone up for the 2023 tax year, with the RRSP limit rising to $30,880 and the TFSA yearly cap increasing to $6,500.
Old Age Security (OAS) limits have also changed, the tax return company, and that means some people over the age of 65 with income above $81,761 may be on the hook to repay a portion of their OAS to the government. Others will be seeing more money in their accounts, as Ottawa granted Canadians older than 75 were a 10 per cent increase in payments, as of July 2022.
On the pension front, maximum contribution limits from both CPP and the Quebec Pension Plan have risen by 2.7 per cent, H&R Block Canada said.
---
Advertisement
Was this newsletter forwarded to you?
Sign up here to get it delivered to your inbox.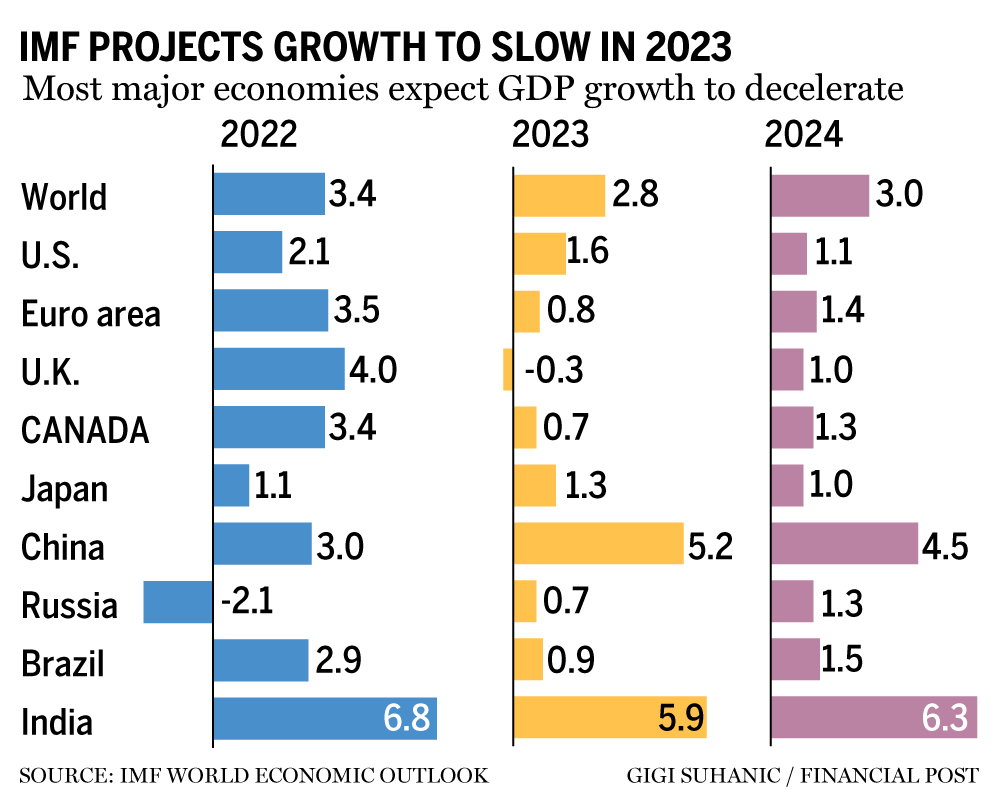 The International Monetary Fund trimmed its global-growth projections, warning of high uncertainty and risks as financial-sector stress adds to pressures emanating from tighter monetary policy and Russia's invasion of Ukraine.
Gross domestic product will likely expand 2.8 per cent this year and three per cent next year, each 0.1 percentage point less than forecast in January, the fund said on April 11 in a quarterly update to its World Economic Outlook. That compares with 3.4 per cent expansion in 2022
The unexpected failures last month of Silicon Valley Bank and Signature Bank and the collapse of Credit Suisse Group AG roiled markets and ignited financial-stability concerns, complicating central banks' quest to tame inflation while maintaining growth and the health of the banking system.
"The risks are weighted heavily to the downside, in large part because of the financial turmoil of the last month and a half," said Pierre-Olivier Gourinchas, the fund's chief economist. "That is under control as of now, but we are concerned that this could result in a sharper and a more elevated downturn if financial conditions were to worsen significantly."
While the reduction in the 2023 forecast isn't large, the report showed the IMF is more subdued about the outlook than in January, when it saw this year as a "turning point" for the global economy and risks were more balanced.
— Bloomberg
'The warning signs were there' before SVB crisis hit, Carolyn Wilkins says

Former senior deputy governor of the Bank of Canada says Silicon Valley Bank collapse was "missed opportunity" for regulators who failed to heed warnings signs
Newmont sweetens Newcrest takeover bid to $19.5 billion

The two companies move closer to completing one of the mining sector's biggest mergers as Newmont ups bid to US$19.5 billion from US$17 billion
CRA workers move to strike for higher wages, but time for big raises may have already passed

Canada Revenue Agency employees say they'll strike if they don't get more money, but recent data suggests the time for big, inflation-beating pay hikes may have already come and gone
Canadians' financial outlook hits all-time low in March

Maru Household Outlook Index sinks to new low as people don't see a silver lining for their finances amid high inflation, interest rates and expensive food prices
"If [Glencore] comes back with a higher offer SURELY the board must delay the vote and engage or they are simply not acting in the interests of shareholders"
— Ben Cleary, long-term investor in Teck Resources Ltd., and who has previously clashed with management, called on the Vancouver-based miner to give more consideration to Glencore PLC's takeover proposal. Teck's board of directors rejected Glencore's initial proposal on April 3, with the CEO calling it a "non-starter."
The Bank of Canada announces its latest interest rate decision at 10 a.m., and governor Tiff Macklem and senior deputy governor Carolyn Rogers will host a press conference for the release of the bank's Monetary Policy Report. Most analysts expect policymakers to hold rates, though there are a few who think a cut is in store. The Financial Post will provide complete coverage of the announcement, along with expert analysis from editor-in-chief Kevin Carmichael, who is on the scene in Ottawa




The United States Federal Open Market Committee (FOMC) releases its latest meeting minutes at 2 p.m.

Tony Staffieri, chief executive of Rogers Communications Inc., takes part in an event hosted by Canadian Club Toronto where he will discuss his vision for the company and how it will benefit consumers, businesses and the country

Ravi Kahlon, British Columbia's minister of housing, will speak before the Vancouver Board of Trade. The minister will discuss the government's housing strategy "Homes for People," his vision for the future and the steps the province is taking to address the current housing crisis

Today's data: Canadian construction investment; U.S. consumer price index
Earnings: MTY Food Group Inc.
The tax-free first home savings account, Canada's newest registered savings plan, has launched and tax expert Jamie Golombek says it combines the best features of both a registered retirement savings plan and a tax-free savings account. What's more, it could be advantageous even if you don't have any plans to ever buy a first home.
TAX-FREE IN: TAX-FREE OUT
Today's Posthaste was written by Victoria Wells, @vwells80, with additional reporting from The Canadian Press, Thomson Reuters and Bloomberg.
Have a story idea, pitch, embargoed report, or a suggestion for this newsletter? Email us at [email protected], or hit reply to send us a note.
Sign up now for more of FP's free, in-depth newsletters