View this email in your

browser
Good morning!
Canadians could be forgiven for thinking the economy has dodged the recession bullet given the recent raft of strong data points, but not so fast, say economists, who predict the slowdown is coming, just a little later than originally expected.
Economics firms throughout 2022 said Canada's economy, along with those of other western nations, would fall into recession by year-end, or early 2023 at the latest. But the latest data shows those economies have been more resilient than anyone expected or predicted.
For example, 150,000 new jobs were added to the Canadian workforce in January and the latest retail estimates show that consumers spent more in December than in November, and continued that trend last month.
The jobs market in the United States also stunned to the upside, adding more than 500,000 positions in January, compared to the forecasted 190,000. Overseas, the United Kingdom and European Union narrowly averted contraction in the fourth quarter, with the former reporting flat growth and the latter reporting growth of 0.1 per cent.
But Capital Economics said higher interest rates have dragged down growth in consumer and business credit, "which in turn points to a marked deceleration in GDP (gross domestic product) growth."
The Bank of Canada has raised its benchmark lending rate 425 basis points to 4.5 per cent from 0.25 per cent in March 2022. The central bank is not expected to make another rate hike at its next policy meeting on March 8, partly because it signalled a pause was likely following the increase it made on Jan. 25 and because last month's inflation data showed prices are continuing to decelerate.
"It looks like the recessions we have long been forecasting in advanced economies will commence a little later than we had initially envisaged," Capital Economics said in a note on Feb. 16. "But it still looks likely that the full force of monetary tightening is yet to be felt."
Others are also revising their outlooks on growth and a possible recession.
"Since we published our last economic outlook for Canada, data have continued to surprise on the upside," Desjardins Economics said in a Feb. 16 note that revised its near-term forecast for real GDP.
Desjardins is now expecting GDP in Canada to contract in the second and third quarters of this year by 1.2 per cent and 1.9 per cent, respectively. In a previous outlook on Jan. 19, Desjardins called for Canada to slip into recession in the first quarter of this year, recording a contraction of 0.1 per cent followed by contractions of 1.3 per cent in each of the second and third quarters.
The Bank of Montreal is forecasting a Canadian recession to hit in the second and third quarters, with GDP contracting one per cent in each of them.
"In recent weeks, we have been slightly tweaking them to later in this year and a little less negative on balance," said Douglas Porter, chief economist at BMO Capital Markets, in an email. Porter said BMO had previously forecast average annual GDP of zero per cent for 2023, but "we now have 0.7 per cent for the year."
Scotiabank Economics is expecting contractions of 0.1 per cent in the second quarter and 0.5 per cent in the third.
"We remain of the view that the United States and Canada will stall and experience a very mild recession but have pushed that contraction to Q2 and Q3 versus our earlier call of a Q1 start," economist Jean-François Perrault said in a Feb. 6 note.
In a bit of a reversal, Royal Bank of Canada's latest economic forecast calls for contractions of 0.5 per cent in the first quarter and one per cent in the second quarter. Originally, RBC had the recession starting in Q2 of this year, but pulled it forward to Q1, said economist Nathan Janzen, in an email.
"We'll reassess after next week's GDP data," he said.
Statistics Canada will report GDP figures for December and the fourth quarter on Feb. 28.
---
Advertisement
Was this newsletter forwarded to you?
Sign up here to get it delivered to your inbox.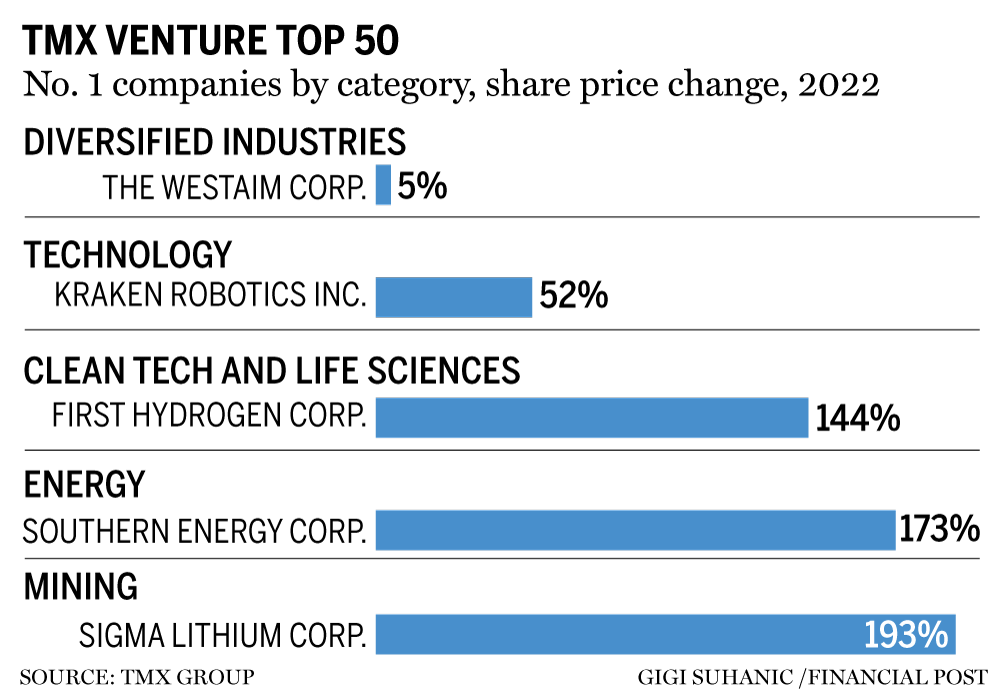 Energy and mining companies with a focus on the green transition have made a strong showing on this year's Venture 50 list, an annual ranking of the top performing companies on the TSX Venture Exchange.
The list spotlights some of the lesser known stars among the 3,000-plus publicly traded companies in Canada. This year's crop, which is broken down into five sectors of 10 companies each, had an average return of 73 per cent, with mining and energy leading the way with gains of 174 per cent and 89 per cent, respectively.
Some of the biggest winners were Vancouver-based automaker First Hydrogen Corp., which made the list for the second straight year, whose shares surged 144 per cent; Calgary-based CVW CleanTech Inc., whose shares rose 204 per cent; and Brazilian miner Sigma Lithium Corp., which led the list with a share price jump of 193 per cent.
"These companies have proven to be very resilient and very innovative against the backdrop that's actually been quite, quite difficult," Toronto Stock Exchange chief executive Loui Anastasopoulos said. — Stephanie Hughes
Read the full story here.
What executive shake-ups at the big banks could tell us about CEO succession planning
The world's biggest miner is ready to plant more flags in 'highly desirable' Canada
Foreign-trained doctors 6 times more likely to work outside field than other immigrants: RBC
'Fast and furious' bank stocks may be running out of road, analysts warn
5 investing theories that seem right, but need to be tested in real life
Vass Bednar: Twitter, Meta paid verification schemes usher in two-tiered social media
---
Advertisement
Conservative Leader Pierre Poilievre holds a town hall on home heating
The Bloc Quebecois hold a conference on seniors' financial health. Bloc Quebecois Leader Yves-Francois Blanchet will deliver a closing speech at 3:45 p.m.
The parliamentary budget officer will post a report entitled "Supplementary Estimates (C) 2022-23" on the website at pbo-dpb.ca
Emergency Preparedness Minister Bill Blair will make an announcement regarding federal disaster recovery funding for British Columbia
Nunavut is releasing its 2023-2024 budget
Today's data: Canadian survey of employment, payrolls and hours; U.S. quarterly GDP, initial jobless claims

Earnings: Loblaw Cos. Ltd., CBRE Gropu INc., Moderna Inc., Square, Newmont Mining Corp., Pembina Pipeline Corp., Northland Power Inc., Quebecor Inc., Enerplus Corp., TransAlta Corp., TransAlta Renewables Inc., Lundin Gold Inc., Altus Group Ltd., Eldorado Gold Corp., Centerra Gold Inc., HudBay Minerals Inc., Cascades Inc., The Lion Electric Company, Gold Cliff Resources Corp., Gold Fields Ltd., Baytex Energy Corp.
A notable shift from gambling to online trading during the height of the pandemic caught the attention of Financial Post columnist Martin Pelletier. With the pandemic mostly in the rear-view mirror, Pelletier expected that the number of online retail traders would have thinned out by now, especially given the market meltdowns experienced over 2022.
Instead, the opposite has happened and online retail trading has become entrenched, accounting for nearly a quarter of all trades in the United States, up from the average of 10 to 15 per cent over the past decade. Sadly, some of the people caught up in online retail trading are exhibiting the classic signs of a gambling addiction.
Pelletier offers three ways to tell if you're investing with your money or gambling with it.
Today's Posthaste was written by Gigi Suhanic, @gsuhanic with additional reporting from The Canadian Press, Thomson Reuters and Bloomberg.
Have a story idea, pitch, embargoed report, or a suggestion for this newsletter? Email us at [email protected], or hit reply to send us a note.
Sign up now for FP's lineup of free, in-depth newsletters: Energy, Finance, Work and Investor