View this email in your

browser
Good morning,
Forget the cliché of a jet-setting retirement to warmer locales: most Canadians yearn for a quiet life spent aging at home, though their plans are getting complicated by health-care worker shortages and the high costs of in-home care, while few make concrete plans that outline their financial and care wishes in the first place.
Ninety per cent of people aged 45 and over in Canada want to live out their golden years at home, according to a survey from HomeEquity Bank and conducted by market researcher Ipsos. Once they require support, moving to an assisted-living residence is considered a last resort for 78 per cent, who say they'd only do so if in-home health care became too expensive.
"The retirement plans of Canadians are often much simpler than you'd expect, with many expressing a desire to age in the home they love," Vivianne Gauci, senior vice president, Customer Experience, and chief marketing officer at HomeEquity Bank, said in a news release.
But that doesn't mean most people can afford to stay in their homes as they get older without making a few sacrifices, given the high cost of hiring a personal support worker (PSW) amid a shortage that might only boost costs in the years ahead. Indeed, 87 per cent of people surveyed say they'll need to cut back on their spending and reallocate funds to afford PSW support. For 40 per cent, that means abandoning the notion of leaving any kind of inheritance to their children. Still others say they'll cut back by putting renovations on hold, paying less on debt or slashing spending on food and entertainment. Nine per cent say they'll even stop taking pricy medications if that means staying in place.
Many might also have to dip into the equity in their homes to afford care, Gauci said, and some of the bank's clients have already taken that step.
Right now, only two per cent of people have a PSW, according to the Ipsos research. But as Canada's population ages rapidly, the number of people requiring care will "balloon by up to 15 times," the study said. That's expected to only exacerbate a support-worker shortage already plaguing the country. In Ontario, for example, a recent report from the Financial Accountability Office predicts the province will have a shortage of 33,000 nurses and PSWs by 2028.
That doesn't change the fact that people think having in-home care will be crucial to their well-being as they age. Without it, two in five fear they'll become a burden to their families. Another 43 per cent worry not having PSW support at home will put them at risk of mental and physical injury.
Still, most Canadians aren't planning ahead adequately, with a majority operating without an estate plan specifying how their money should be allocated to fulfil their wishes, according to a separate study from IG Wealth Management. Only 25 per cent of Canadians have such a plan, and just 24 per cent have one that takes into account the added expenses and care decisions that come with a dementia or Alzheimer's disease diagnosis. Thirty-three per cent haven't even updated their wills after a major life event, such as the birth of a child, a property purchase, marriage or change in health.
Those numbers are "surprising," Christine Van Cauwenberghe, head of Financial Planning at IG Wealth Management, said in a release. That's because without a proper plan, which includes a will, power of attorney and guidance around health-care decisions, people are putting their assets and treatment preferences at risk. "For the majority who have not established clear directives, they're leaving the distribution of their wealth in the hands of provincial law and probate courts," she said.
Gaps in planning should be more of a concern for all Canadians as the population grows older. Almost one in five, or 18.8 per cent, of people were aged 65 or older as of July 1, 2022, Statistics Canada data shows. By 2024, that number will rise to 20 per cent, IG Wealth Management said, striking numbers that should create a "sense of urgency" among individuals to get their affairs in order.
Retirement planning might only do so much, however. If a shortage of PSW and other health-care workers persists, having adequate savings and directives in place might not be enough to ensure people get the quiet retirement they imagine. "If accessing home-care workers becomes a growing challenge, all the money in the world won't help them maintain their dignity and comfort they deserve in their later years," HomeEquity Bank's Gauci said.
---
Advertisement
Was this newsletter forwarded to you?
Sign up here to get it delivered to your inbox.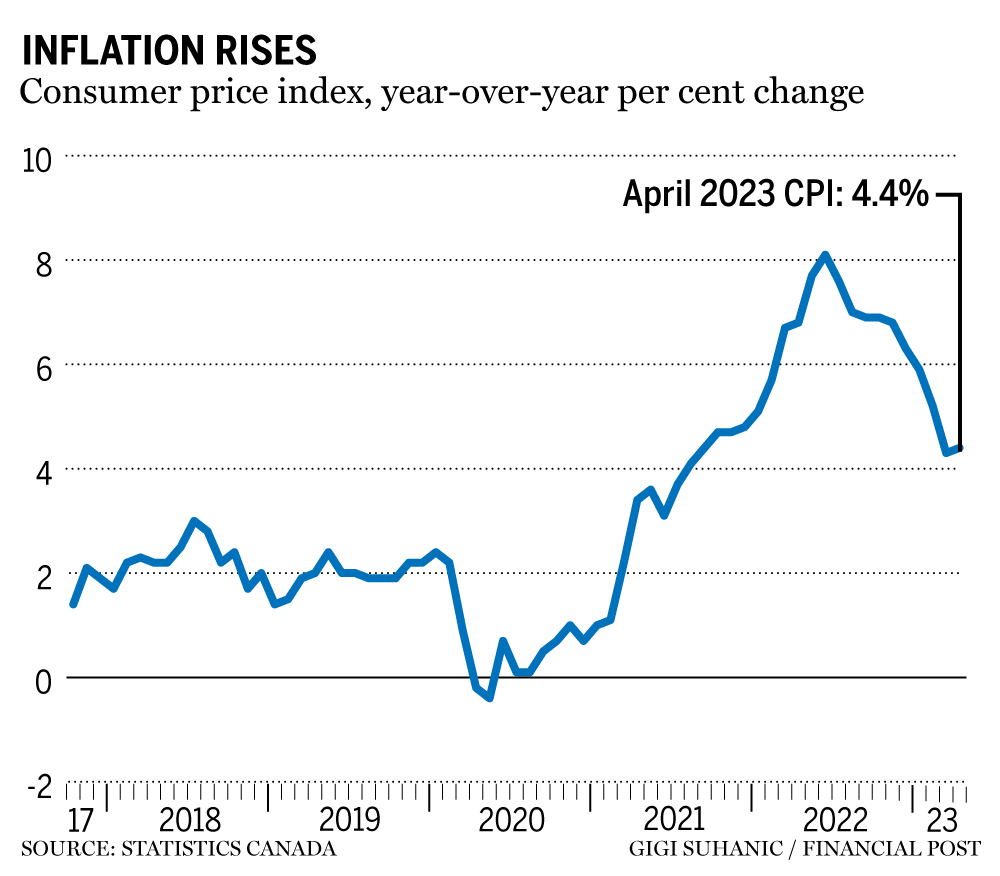 Inflation unexpectedly reaccelerated in Canada in April, but core measures continued to ease, likely giving the Bank of Canada some room to keep rates on pause as it waits for the tight labour market to cool.
The consumer price index rose 4.4 per cent in April from a year ago, the first increase in the rate of headline inflation since June 2022, Statistics Canada said on May 16. That's faster than the 4.1 per cent gain expected in a Bloomberg survey of economists, and up from 4.3 per cent in March.
On a monthly basis, the index rose 0.7 per cent in April, versus expectations of a 0.4 per cent gain.
Inflation drivers were mortgage interest costs, which were up 28.5 per cent from a year ago because of higher interest rates. Rents, up 6.1 per cent, also pushed up the headline rate.
Grocery prices were up 9.1 per cent from a year ago, cooler than the 9.7 per cent increase in March.
Gas prices rose 6.3 per cent on the month, though they are still down 7.7 per cent from a year ago when oil prices soared at the onset Russia's invasion of Ukraine.
— Bloomberg and Financial Post staff
Lenders are taking a more conciliatory approach to insolvencies — and that means fewer bankruptcies

Banks have grown more lenient of highly indebted customers, but it won't be enough to save everyone
Binance's exit and Bank of Canada's digital loonie discussions: How they impact Canadian crypto

Canadian regulators are strict, and central bank has flagged foreign digital currencies as potential risk to financial system
This economist thinks interest rate hikes are doing more harm than good

On this week's Down to Business podcast, Louis-Philippe Rochon, a professor of Economics at Laurentian University in Sudbury, Ont., explains why he thinks higher interest rates haven't helped inflation
Here's where gas prices might be headed this summer

Randy Ollenberger of BMO Capital Markets weighs in on the impact of Alberta's wildfires on oil production and tells us where he thinks gas prices might go during travel season
"We are not out of the woods. I don't believe the worst is behind us"
— Christie Tucker, a spokeswoman for Alberta Wildfire, at a press conference on May 15. Shifting wildfires are prompting drillers to throttle back production once again, more than a week after the spate of blazes began

International Trade Minister Mary Ng will host Albert Muchanga, commissioner for economic development, trade, tourism, industry and minerals of the African Union Commission, for the African Trade Policy Dialogue

Billie Jean King, former professional tennis player, will make the keynote address at TRREB Realtor Quest

Prime Minister Justin Trudeau will visit Seoul between May 16 and 18 and meet with South Korean President Yoon Suk Yeol to advance shared priorities, including economic and energy security, the path to net-zero emissions and human rights

Today's data: Canadian construction investment; U.S. building permits
Earnings: Target, Osisko Metals
Despite the seemingly endless amount of resources online and in real life, gen Z hates talking about personal finance. They'd much rather prefer to talk about politics, parenting struggles and sex and infertility than debt, salaries and bad investments, according to a survey published in January by financial software maker Inuit Inc. Still, many younger people are struggling with debt. Here are some realistic and easy ways for the average gen-Zer to get out of the hole.
Today's Posthaste was written by Victoria Wells, @vwells80, with additional reporting from The Canadian Press, Thomson Reuters and Bloomberg.
Have a story idea, pitch, embargoed report, or a suggestion for this newsletter? Email us at [email protected], or hit reply to send us a note.
Sign up now for more of FP's free, in-depth newsletters