View this email in your

browser
Good morning.
A prominent Bay Street economics shop took on "fiscal fearmongering" this week.
Desjardins Group's economics department published a report April 19 that challenges seven "myths" that surfaced in the wake of the federal budget regarding taxes, deficits, debt and whether government spending is inflationary.
"Coming out of the 2023 budget season, there is no shortage of views about government spending, taxing and borrowing in
 Canada," wrote Randall Bartlett, Marc Desormeaux and Farjad Khan. "Indeed, prognostications of impending fiscal demise in the Great White North are a dime a dozen. But is there any
 substance to the view that public finances in Canada are on a road to ruin, or is it fiscal fearmongering that is unsupported by the
 data?"
Here are the trio's takes on seven "myths" regarding Canada's finances:
1. Debt is higher in Canada than other advanced economies
"Categorically untrue," said Desjardins.
Canada's net government debt — gross debt of all three levels of government minus the assets of public pension plans — ranked the lowest among G7 countries. For 2022, Canada's net debt as a per cent of gross domestic product was 13.9 per cent, compared with 45.1 per cent for second-place Germany and 94.2 per cent for the United States.
Desjardins' economists argued that net debt is the most relevant measure of debt because it is the number that sovereign bond investors care about.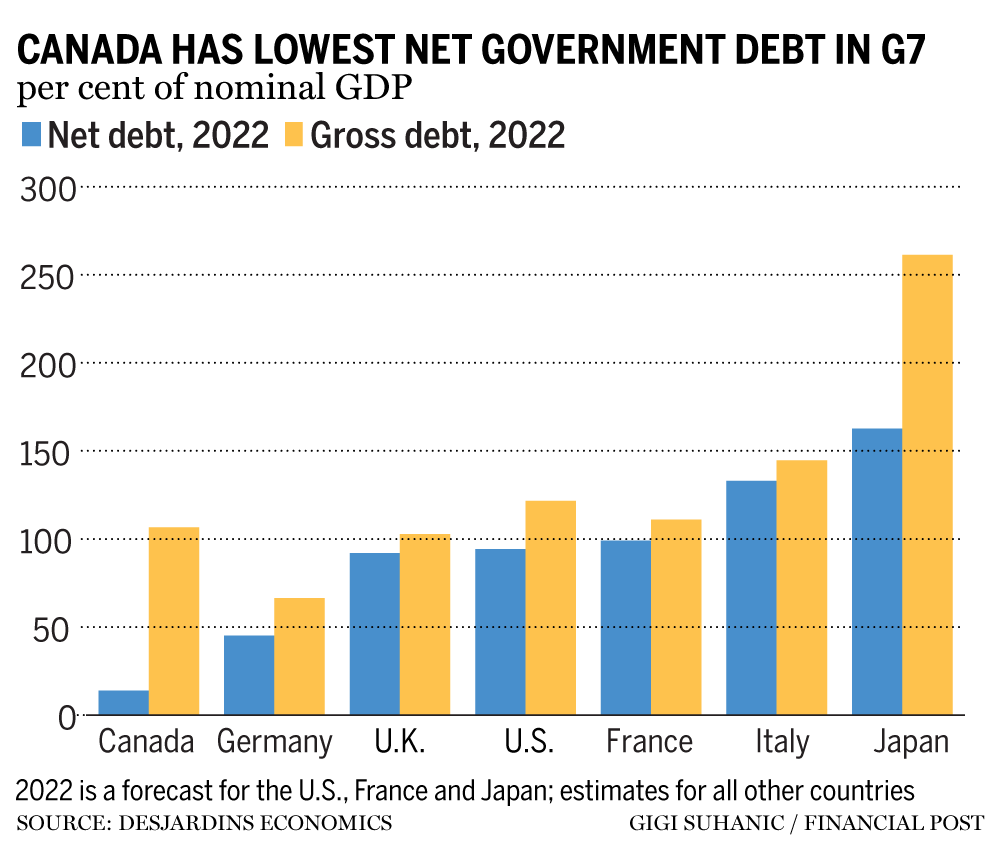 2. Net government debt is flattered by pension plan assets
Nope, said Bartlett, Desormeaux and Khan.
When the assets of the federal and Quebec pension plans are removed, Canada's central government net debt rises to 35.1 per cent of GDP, second lowest in the G7.
3. We're back where we were in the 1980s and 1990s
"Not so much," they said.
General government debt — meaning all levels of government — rose above 1990s levels during the height of the COVID-19 pandemic, to just over 100 per cent of GDP. That was last seen in 1996, said the report, citing International Monetary Fund (IMF) data.
But that number is starting to shrink. "Fortunately, the IMF expects it to keep moving lower, ultimately returning to pre-COVID levels," the economists said.
Separately, Desjardins defended the federal government's books, noting that at no time, even during the pandemic, did "any measure" of debt to GDP threaten to breach 1990 levels.
What's more, in the 1990s, almost 40 cents of every dollar went to debt servicing, whereas today that number is closer to eight cents, although it is expected to rise to nearly 10 cents.
4. Federal debt is unsustainable
"This risk isn't easily busted," said the economists, ceding some ground.
The economists noted that Budget 2023 projections for federal finances depend on a few assumptions, among them that GDP and revenue will grow more than program spending and interest rates. But, given Ottawa's record on spending, it's tough to make a case for this scenario.
"If history is a guide, there is a risk that federal program expenditures increase materially even as the economy and revenues underperform," they said.
Also, there's currently no certainty around the path interest rates will take. The Bank of Canada said last week that it was willing to hike again if inflation persists. Since March 2022, the central bank hiked rates 425 basis points from 0.25 per cent to 4.5 per cent.
5. If you include the provinces, debt looks much worse
"No. Not really," they said.
The provinces have lower net debt to GDP ratios than the federal government. In fact, most of their debt positions improved following the provincial budget season where many reported improved fiscal outlooks and surpluses.
But, provinces also provide services such as health care that are large budget drains. That coupled with the rising cost of caring for aging populations could add to financial pressures in the future.
6. Governments are running massive deficits
"Wrong again," said the economists.
The IMF said Canada has among the smallest general government deficits as a per cent of GDP of the G7 countries, and that it expects Canada to lead those countries in keeping deficits "under control."
Desjardins economists acknowledged that the federal budget forecast a growing deficit. They said that could be mitigated by improved budget balances at the provincial level.
7. The new spending is inflationary
Some is and some isn't, Desjardins said.
Much of the $43 billion in new federal spending over six years is earmarked for the expansion of the health and dental-care programs and green energy subsidies, "neither of which are likely to stoke short-term inflation." The grocery rebate Ottawa announced during the budget could be mildly inflationary, the report said.
Overall, economists have concluded that spending at the federal and provincial levels will be inflationary "at the margins," Desjardins said. Still, consumers have noticed the spending, and now appear to expect inflation will hang at a higher level for longer.
"Fiscal myth making is alive and well in Canada," Desjardins said. "Some of this stems from past deficit and debt struggles that remain part of our cultural DNA. But many of the statements that are presented as fact have become little more than fiscal fearmongering, at times trumpeted by old generals eager to fight past battles."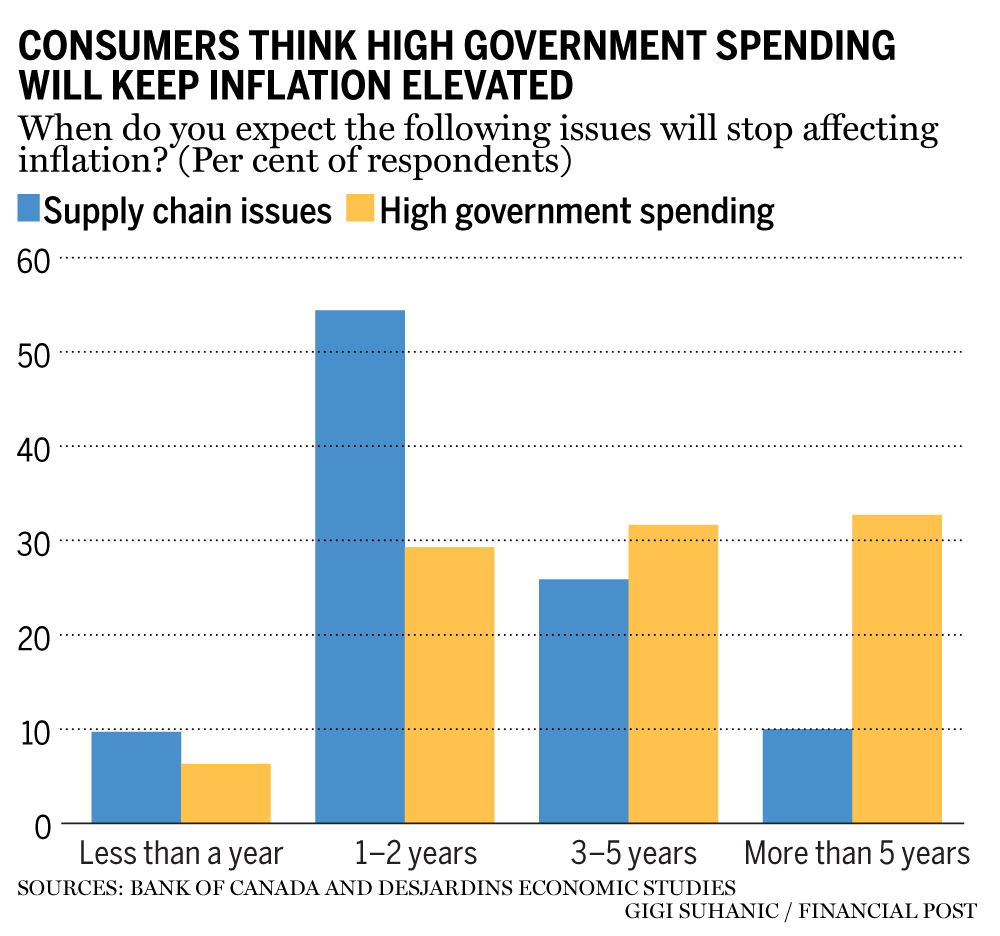 ---
Advertisement
Was this newsletter forwarded to you?
Sign up here to get it delivered to your inbox.
The pace of housing starts in Canada fell 11 per cent in March, according to the latest data from Canada Mortgage and Housing Corp.
The CMHC on April 19 said the seasonally adjusted annual rate declined to 213,865 units in March from 240,927 units in February, below analyst estimates.
Despite the national decline, CMHC chief economist Bob Dugan said the pace of housing starts and the trend appear to be returning to pre-pandemic levels.
"With interest rates remaining high, it continues to be challenging for developers and homebuilders to get projects started," he said in a press release. — Denise Paglinawan
Read the full story here.
'Costs could be staggering': How businesses, Bay Street are reacting to the PSAC strike

Business and economists warned that the decision by the Public Service Alliance of Canada (PSAC) to trigger one of the biggest strikes in Canada's history could have a material impact on the economy. Read what they are saying

Teck versus Glencore: What you need to know about the takeover battle gripping the mining industry

Teck Resources Ltd. and global mining giant Glencore PLC have been trading punches over a US$23.2-billion takeover deal. Here's why Canadians should pay attention

Lululemon unveils first shirts with plant-based nylon

Lululemon Athletica Inc. has introduced what it calls its first renewably sourced, plant-based nylon products as the athletic-wear maker tries to woo consumers shopping for more sustainable apparel
Getting inflation below 3% won't be easy

Frances Donald, chief economist at Manulife Investment, talks with the Financial Post's Larysa Harapyn about how getting below three per cent inflation won't be easy
"I'm not optimistic that this walkout could be short lived, but it's not impossible assuming that the government's chequebook hasn't run out of cheques!"
— Bank of Nova Scotia economist Derek Holt writing to clients on the strike by the Public Service Alliance of Canada, which represents employees in many quadrants of the federal government including the Canada Revenue Agency and the Canadian Grain Commission.

The standing committee on Canadian heritage meets regarding activities of Google in reaction to Bill C-18. Kent Walker, president of global affairs at Google LLC; and Richard Gingras, vice-president of news at Google LLC, appear as witnesses by video conference
The standing committee on environment and sustainable development meets regarding the toxic leak of tailings ponds. Allan Adam, chief of Athabasca Chipewyan First Nation; and Billie-Joe Tuccaro, chief of Mikisew Cree First Nation, appear as witnesses
Fairfax Financial Holding Ltd. will hold an annual general meeting of shareholders in Toronto

Toronto-Dominion Bank holds its annual general meeting in Toronto




Today's data: Canadian employment insurance data; U.S. initial jobless and continuing claims, Philadelphia Fed Business Outlook, existing home sales, Conference Board U.S. leading index

Earnings: AT&T Inc., American Express Co., Blackstone, Nokia Corp.

Inverted yield curves on U.S. Treasuries — when the return on short-term bonds rises above that of long-term bonds — have an excellent track record for predicting recessions. In fact, they're practically prescient, writes financial expert Noah Solomon.
What about the inverted yield curve's market timing abilities? What is its track record on that score?

READ SOLOMON HERE
Today's Posthaste was written by Gigi Suhanic, @gsuhanic, with additional reporting from The Canadian Press, Thomson Reuters and Bloomberg.
Have a story idea, pitch, embargoed report, or a suggestion for this newsletter? Email us at [email protected], or hit reply to send us a note.
Sign up now for more of FP's free, in-depth newsletters