View this email in your
browser
Good morning!
You'd be forgiven if the endless headlines about company layoffs are making you feel a little nervous about holding onto your job, but things might not be as dire as they may seem.
Canadian companies are still eager to hire, with more than half of them planning to boost headcount by adding permanent jobs in the first half of the year, according to the latest research from recruiter Robert Half Canada. That's an increase from over six months ago, when 40 per cent of managers anticipated hiring. For those not adding jobs, 42 per cent are planning to hire to fill roles currently empty. Only six per cent say they'll stop hiring completely, and just one per cent are planning to cut jobs.
Those numbers match the Bank of Canada's latest Business Outlook survey, which showed that almost half of employers are still planning to hire during the first few months of the year. That said, companies are also being cautious, and don't plan to hire as robustly as in previous quarters.
Still, a tight labour market is complicating hiring plans. Job vacancies remain high, though down from historic highs, and employers continue to say they're having trouble filling them. Skilled labour shortages remain the top issue holding back the growth of small businesses, according to the latest Business Barometer reading from the Canadian Federation of Independent Business.
Things south of the border are also not as grim as layoff headlines would lead you to believe. The latest United States Bureau of Labor Statistics report released on Feb. 3 blew expectations out of the water. The U.S. added 517,000 jobs in January, pushing the unemployment rate down to 3.4 per cent, the lowest since May 1969. Bloomberg economists had expected a mere 188,000 new jobs, and for the unemployment rate to rise to 3.6 per cent. More companies in the U.S. may have cut jobs in January than in the past two years, but layoffs are at historic lows, not highs, Bloomberg noted.
The data hardly paints a picture of a labour market in collapse, but no one's quite sure where the market will go from here. "One of the wild cards for the economic forecast in 2023 is what will happen to labour markets," says Trevin Stratton, national leader and partner, Economic Advisory, at Deloitte Canada, in an interview with the Financial Post's Larysa Harapyn.
Stratton points out that though recessions are traditionally associated with job losses, the situation is different this time. Businesses are being forced to balance expected softening consumer demand with labour shortages. "Employers are somewhat reluctant to let go of their workers right now just for fear of not being able to fill those vacant positions once the economy begins to recover," he says.
We'll get an updated picture of what's going on with the labour market on Feb. 10 when Statistics Canada releases its labour force survey for January. In the meantime, if you are feeling anxious about job security, maybe give yourself a break and let those fears go. If you do find yourself holding a pink slip, know that there's always another job around the corner, especially in this tight labour market.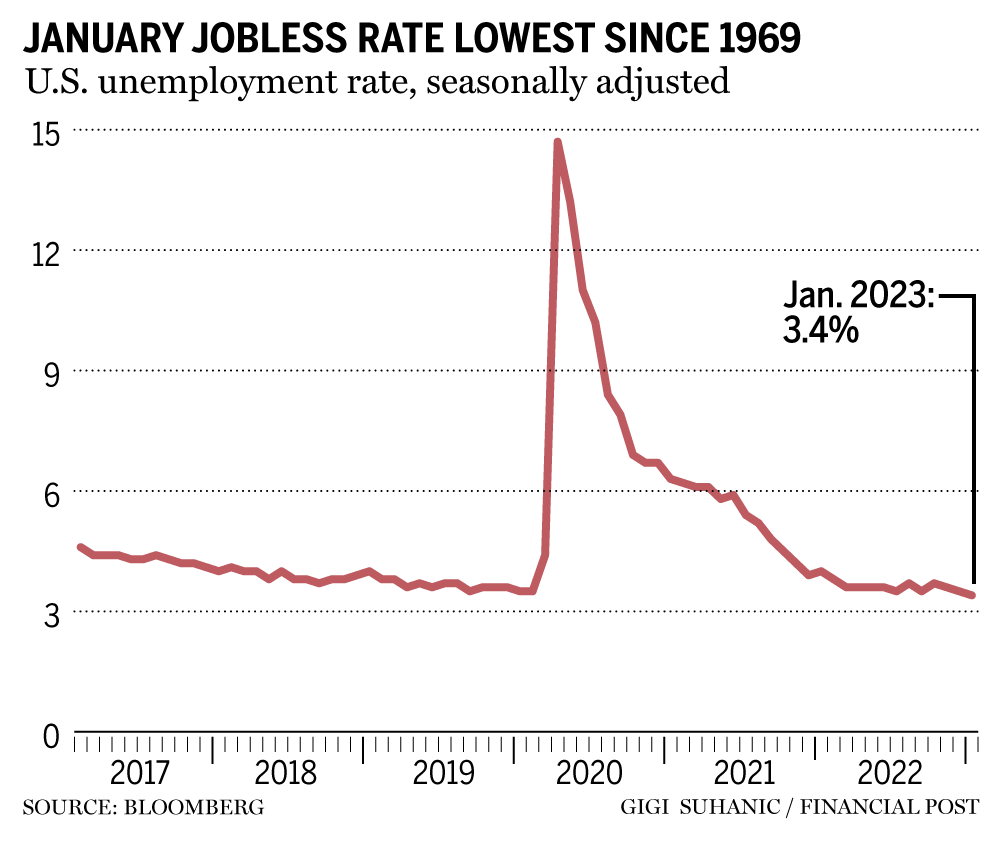 — Victoria Wells, senior editor, Financial Post, and FP Work editor

Do you have thoughts, suggestions or comments you'd like to share with us at FP Work? Please send an email to [email protected]. We'd love to hear from you.
Bye-bye free food: Big Tech is cutting back on its office perks
After a years-long hiring spree to support ambitious growth plans, Big Tech is reining in its cost base because of the sector-wide plunges in share prices triggered by higher interest rates. The companies are both laying off staff and reducing perks for those left behind. For example, Meta Platforms Inc. is reducing health and wellness benefits, in-house laundry services, subsidized travel and more.
MASSAGE THERAPISTS AXED

More on the tech jobs wreck:
U.S. layoffs surge to two-year high as tech slashes thousands of jobs

Google workers stage rallies against job cuts, low wages
Empty office towers show remote-work pain rippling through Montreal
Montreal's once-bustling streets are now marked by construction cones, quiet streets and empty buildings as flexible work policies keep people at home. Infrastructure projects that make commuting difficult haven't helped matters. Office vacancies are up 16 per cent and subway traffic levels are only 70 per cent of what they were three years ago. Experts say offices will have to be redesigned if landlords and employers want to lure people back.
'COMPLETE REINVENTION OF THE OFFICE'
More on this topic: New York property tycoon to give worn-out offices 'back to the bank'
---
Advertisement
A stubbornly strong jobs market on both sides of the border is complicating central banks' battle with inflation. Benjamin Tal, deputy chief economist at the Canadian Imperial Bank of Commerce, speaks with the Financial Post's Larysa Harapyn about what to expect from the Bank of Canada and United States Federal Reserve in the months ahead.
WATCH THE VIDEO
More on the hot labour market: Blockbuster jobs gains push unemployment rate in U.S. to 53-year low
This is one of the worst workplace mistreatment cases these lawyers have ever seen
A man in Ontario was recently awarded an unprecedented $295,158 by a court after suffering physical and verbal abuse from a supervisor at his workplace. Legal experts Howard Levitt and Puneet Tiwari break down the disturbing case, and offer key takeaways for employers.
DON'T HESITATE TO TAKE ACTION
More Levitt: Can you be fired without warning and more common employment law questions
---
Advertisement
Was this newsletter forwarded to you?
Sign up here to get it delivered to your inbox.
Bosses are talking about headcount like they did in the financial crisis
William Watson: Where have all the workers gone? To time passing
Baby boomers delaying retirement have eased labour shortages, but our luck is about to run out
Ontario job seekers increasingly looking for work in other provinces
The grim world of office spyware
Ranks of quiet quitters climb as layoffs mount
Worst U.K. strikes in a decade shut schools, stop trains, force office staff to work at home
VerticalScope to cut 22% of workforce amid slowing economic environment
CGI not even considering layoffs, bucking tech-sector trend of widespread job cuts
Is the Fed ignoring long COVID in its inflation fight? (CNN)
FP Work is all about teamwork. In addition to the contributions from our top-notch columnists and reporters, recognition goes to the FP web team, which includes Pamela Heaven, Noella Ovid and Gigi Suhanic.

Sign up here for this and other FP newsletters, and please send us your feedback, tips and story ideas.
We want to know what you think about FP Work. Take this quick survey now and share your feedback with us.