View this email in your
browser
Good morning!
Burnout levels and some aspects of hybrid work are improving for women as they flock back to the workforce, but employers still seem to be missing the mark when it comes to offering flexibility.
Almost half of Canadian women work from both the office and home each week, according to Deloitte's Women at Work report released last week, and they say they're now less likely to be forgotten by leaders and other colleagues because of their remote work schedules.
Women on hybrid schedules say they are being included more often in meetings and decision making, with just 41 per cent feeling left out of important conversations, compared to 59 per cent last year. They're also getting more time with managers and other leaders than they used to. And only 36 per cent of women surveyed say they are burnt out, a big decline from the 46 per cent who said they were last year. They've also noted work-life balance improvements. Even so, women in Canada are slightly more likely to say they're burned out compared to those in other countries.
Still, that's mostly good news for the Canadian labour market, because economists have identified women as a key source of talent to fill all those vacant positions, and a record number of them have come back to work during the past year. In March, the employment rate for women was 82 per cent, just off the record high of 82.2 per cent set in January.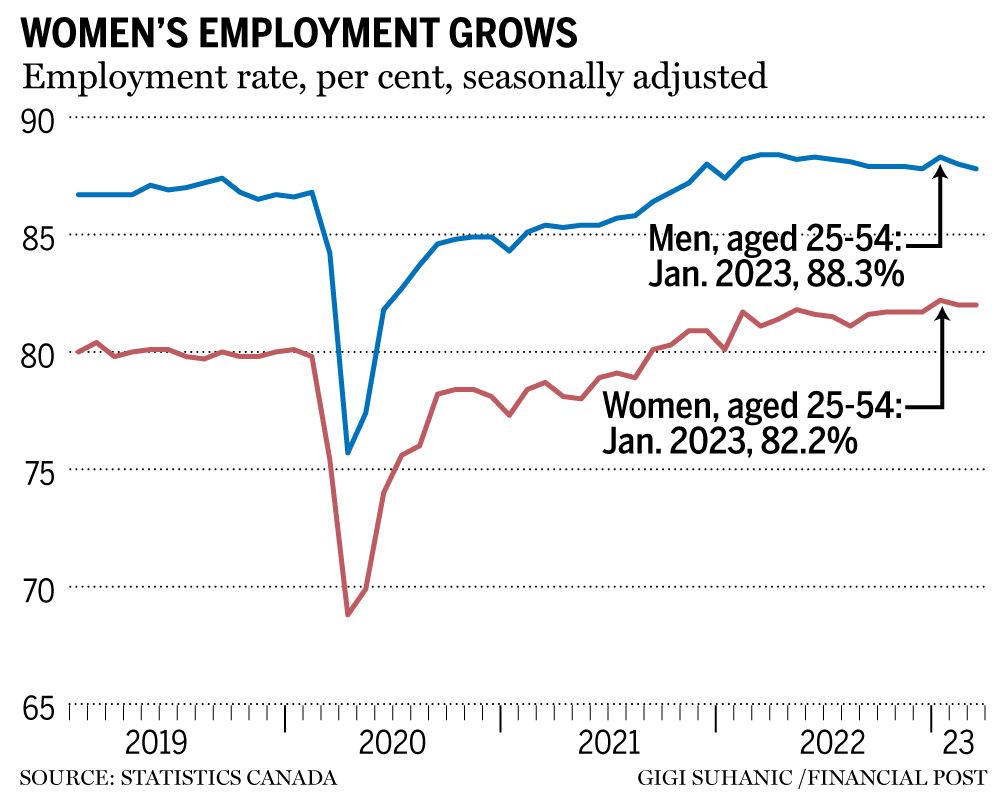 It stands to reason that continued workplace improvements could entice even more women to enter the workforce. But it's also clear that more changes are needed. "While our research shows some glimpses of improvement for women in the workplace over the past year, it also illuminates the work that remains," Emma Codd, Deloitte's global inclusion leader, says in a news release. "We're seeing a worsening picture when it comes to critical workplace aspects, such as mental-health support."
Women say access to mental-health services through work is worse than last year, and 53 per cent say they're more stressed out than before. They're also struggling to keep thoughts about their jobs from leaking into their personal time, with 34 per cent saying they're having difficulty "switching off," compared to 45 per cent last year. At the same time, many are single-handedly doing the bulk of the household chores, such as cleaning, cooking and caring for children. That extra burden could be one reason why many say they're letting their partners' careers take priority over their own, which can hold women back financially and exacerbate the gender pay gap. In 2021, women earned 89 cents for every dollar men made, Statistics Canada says.
Even though some aspects of hybrid work are getting better, issues remain. For example, women say they're not getting clear communication from managers about when they're expected at the office, and more than one-third say they don't have predictable schedules. Flexibility remains a major pain point, with 30 per cent saying they don't have enough, compared to just 11 per cent last year.
Women have repeatedly made it clear that flexibility is no longer a want, but a need, so a push for workers to be at their office desks at least three or four days a week risks alienating a key part of the workforce. Deloitte's research pegs poor flexibility as the main reason why some women quit their jobs. Yet the stigma around such policies is also an issue, as 98 per cent of women worry that asking for or adopting a flexible schedule will reduce their chances of getting a promotion.
Despite these fears, employers that offer adaptive schedules reap the benefits. For example, 56 per cent of women who have high flexibility at work say they're planning to stay at their jobs for the next three to five years, while only 36 per cent of those without flexibility say the same. Other research has also proven that women stay loyal to employers that give them the ability to adjust their hours or work location as needed. Catherine Clark, co-founder of podcast The Honest Talk, goes so far as to say that flexibility "is critical for keeping women in the workforce."
It's a message that is being heeded by corporate leaders, including some of remote work's biggest critics. JPMorgan Chase & Co. chief executive Jamie Dimon, who has said working from home "doesn't work," also says it can "help women" and has called on other executives to bake flexibility into their policies. "Modify your company to help women stay home a little," he said in January.
But companies that want female employees to succeed shouldn't put the focus solely on offering adaptable hours and work locations. Addressing equity on a broader scale is also necessary, and creates benefits for employers. Deloitte's study found that businesses that make gender equality a priority have more productive and engaged employees. Plus, staffers report greater work-life balance and career satisfaction.
"It's not only the right thing to do," says Michele Parmelee, Deloitte's global deputy chief executive and chief people and purpose officer, "but it's a win-win for leaders to cultivate an inclusive culture where all women are set up to thrive."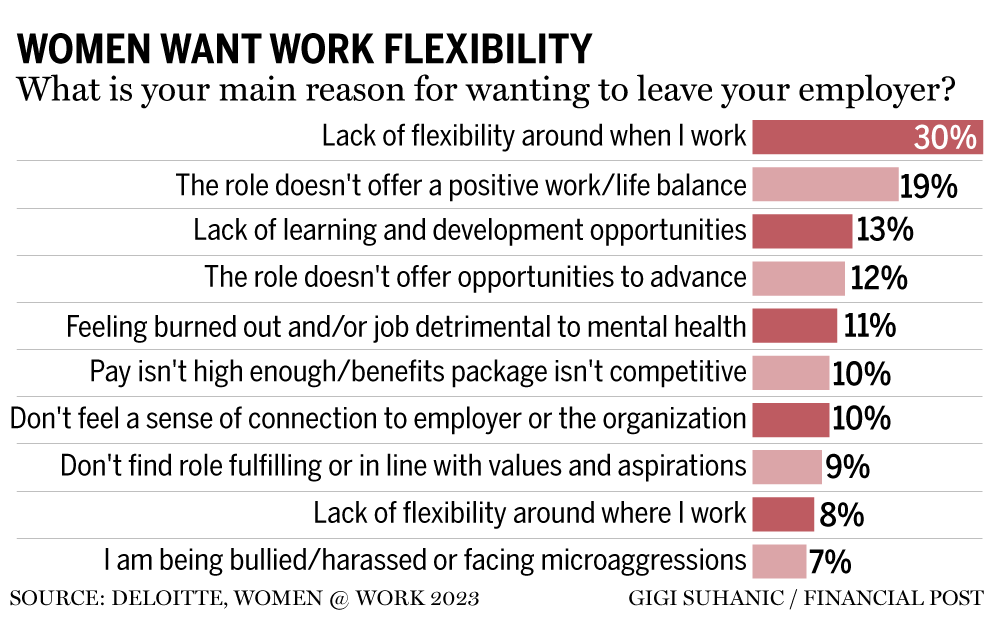 — Victoria Wells, senior editor, Financial Post, and FP Work editor

Do you have thoughts, suggestions or comments you'd like to share with us at FP Work? Please send an email to [email protected]. We'd love to hear from you.
More stories on women and work from the Financial Post
'She-covery' is here: Why women are flooding back into the workforce
Corporate Canada needs better approach to menopause if it wants to keep women leaders
Ask for that raise: 80% of women who request a pay hike, get one, survey finds
---
Advertisement
PSAC strike may be over, but workers' fight with inflation was already lost
Most of the federal public servants who went on strike a couple of weeks ago are back at work, after the Public Service Alliance of Canada (PSAC) reached a tentative agreement with the Treasury Board to increase the wages of some 120,000 bureaucrats by 12.6 per cent over a four-year period, starting retroactively in June 2021. That's an increase of about three per cent per year — well above the Bank of Canada's target of two per cent, but less than the inflation we've experienced since the fall of 2021. The strike brought to the fore an important question that needs to be addressed if we're to collectively move past last year's painful inflationary crisis: will Canada's workers ever make up for the lost purchasing power of their wages? It's probably already too late, says Theo Argitis, managing partner at Compass Rose Group.
THE DIE IS CAST
---
Advertisement
Was this newsletter forwarded to you?
Sign up here to get it delivered to your inbox.
Gossips, suck-ups and bullies: Office politics just as toxic in work-from-home era
Why Canada's office real estate sector is heading for a reckoning
Why was remote work a major sticking point in PSAC negotiations? What you need to know
Howard Levitt: The Tucker Carlson saga has lessons for all companies and employees
Toronto's high-quality office buildings not immune from spike in sublease space
Poor mental health is driving a crisis of worker sickness in the U.K.
Canadian companies still failing on garment workers' rights, 10 years after Rana Plaza collapse
Post-Elon Musk takeover, professionals see less credibility, value on Twitter
Howard Levitt: Foreign companies using intermediaries to hire in Canada can't dodge employee liability

FP Work is all about teamwork. In addition to the contributions from our top-notch columnists and reporters, recognition goes to the FP web team, which includes Pamela Heaven, Noella Ovid and Gigi Suhanic.

Sign up here for this and other FP newsletters, and please send us your feedback, tips and story ideas.
We want to know what you think about FP Work. Take this quick survey now and share your feedback with us.