View this email in your
browser
Good morning!
Skilled labour shortages could be the focus of at least one measure in the federal budget dropping later today, with one demographic in particular having a good chance of being targeted: older workers.
Canada's aging population is hitting retirement age, and baby boomers have started exiting the workforce en masse, taking their valuable skills and knowledge with them while leaving vacancies that few younger people are available to fill. So far, the federal government hasn't done much to stem the retirement tide, but that could change if a "career extension tax credit" promised in the Liberals' last election campaign finally comes to fruition.
The proposed credit designed to keep older workers on the job was part of Prime Minister Justin Trudeau's mandate letter to Finance Minister Chrystia Freeland in December 2021. The credit, described in the Liberal platform as for seniors 65 and older earning $5,000 or more, with a deduction valued at up to $1,650 a year, and which would also remove tax payable on a part of income, was one of two credits floated in the letter to tackle labour shortages. The other, a "labour mobility tax credit" to help relocate construction workers and other tradespeople, was introduced in the 2022 budget and has since received royal assent.
The credit for older workers likely won't come soon enough for employers. An aging population has been a cloud looming over the labour market for decades, and now the storm has arrived. Canada's workers have never been so old, with more than one in five aged 55 to 64, Statistics Canada says. Furthermore, more Canadians than ever jumped into retirement during the COVID-19 pandemic, and a record number of those aged 55 to 64 left the workforce in August 2022, data show. At the same time, more than a million job vacancies were waiting to be filled.
Vacancies have since eased, and some older people have found their way back to work, but the grey wave of retirements is by no means over. TD Economics predicts 900,000 workers will retire in the next three years as another one million people turn 65 by 2025. Economists at the Royal Bank of Canada estimate we're only halfway through the number of expected retirements set to rock the labour market and economy. "By the end of this decade, labour force participation is expected to fall to levels not seen since the 1970s," RBC economists said in an October 2022 note. "The lower the labour force participation rate, the more severe the economic and fiscal strains will be."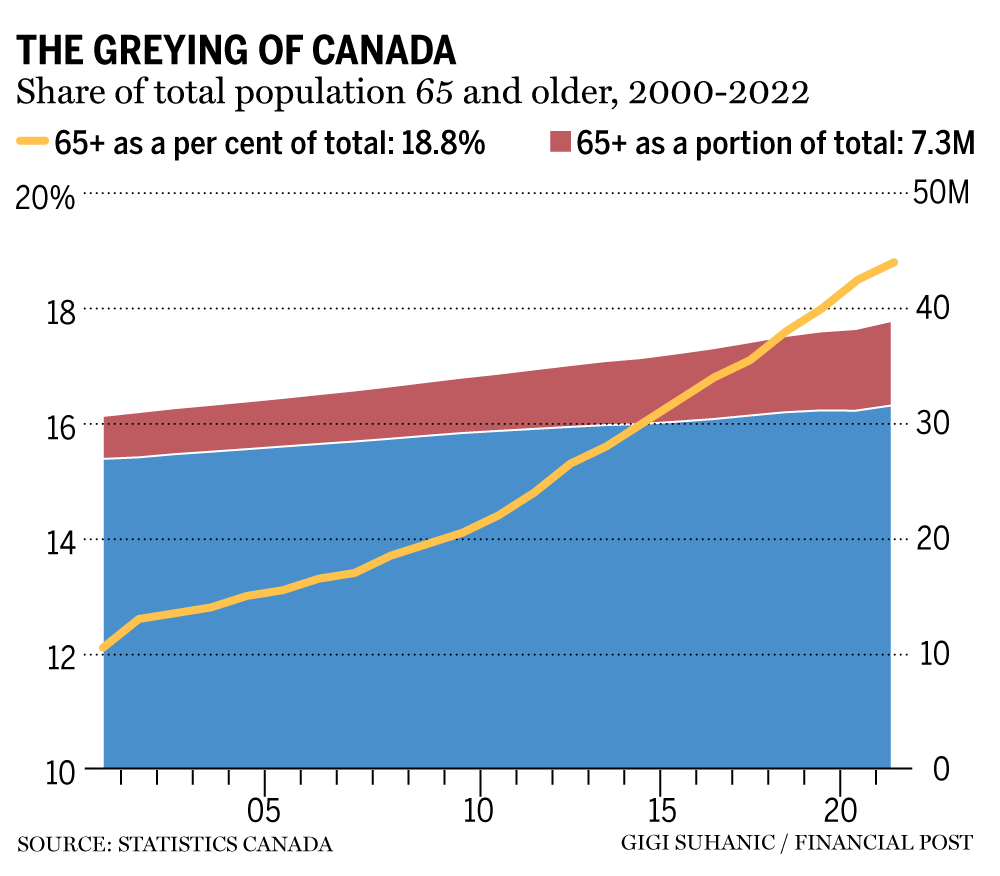 The effects of more knowledgeable workers retiring are already playing out in some industries. Vacancies remain high in sectors such as health care, construction, transportation and finance, Statistics Canada data show, and are adding to the burdens of small-business owners, many of whom are still trying to dig themselves out of COVID-19-induced fiscal holes. The Canadian Federation of Independent Business (CFIB) estimates 59 per cent of small- and medium-sized enterprises can't find staff to fill roles, with skilled and semi-skilled workers especially hard to find.
A tax credit that keeps older workers on the job for longer could ease some of that pressure. Such a measure will also likely be welcomed by those who want to keep working beyond the traditional retirement age. In February, employment of women aged 55 to 64 reached a record high on a month-over-month basis, Statistics Canada says, and employment of both sexes is also up on a year-over-year basis. Perhaps it's no surprise that some of the sectors benefiting the most are those that rely on skilled labour, with manufacturing, agriculture, and professional, scientific and technical services all drawing more workers aged 55 to 64. Statistics Canada says retirement intentions have also ticked down from 2022 levels.
Elevated inflation, high interest rates and a volatile stock market could all be driving older people to keep earning a paycheque to make ends meet. Higher rental costs may also play a role, especially for single seniors forced to pay higher taxes compared to their married peers.
But even before rising inflation squeezed expenses, people were expressing a desire to keep working into their golden years, albeit on their terms. A majority of Canadians want a semi-retirement option to keep them connected to the workforce, though they're looking for flexible schedules, consulting or working fewer hours, according to a survey by Express Employment Professionals in January 2022.
Keeping older people in the labour force longer won't solve shortages completely, since the population will continue to age and drop out of the workforce. That means the government — and employers — will need to find other ways to address any gaps. Groups, such as CFIB and the Canadian Manufacturing Coalition, are calling on Ottawa to bring in more skilled workers via immigration, while also earmarking funds to improve training programs in this year's budget. "We're looking for some kind of commitment to real training," Dennis Darby, chief executive of the Canadian Manufacturers and Exporters, tells the CBC. "You can buy equipment, you can buy robots, but you have to train people and develop the software."
It's clear that more needs to be done to train people in the skills that employers need. But until immigration and training programs catch up to labour shortages, encouraging older people to keep their jobs makes sense. Beyond the material benefits for seniors, younger employees also stand to gain as older colleagues pass down their knowledge and expertise. A federal tax credit that helps facilitate that seems like an obvious win for Ottawa, employers, workers and the economy.
— Victoria Wells, senior editor, Financial Post, and FP Work editor

Note: FP Work is taking a one-week hiatus and will be back in your inbox on Tuesday, April 11.
Do you have thoughts, suggestions or comments you'd like to share with us at FP Work? Please send an email to [email protected]. We'd love to hear from you.
Why revealing a neurodiversity diagnosis can help your career
Diagnoses of neurodiversity — an umbrella term that includes autism, ADHD, dyspraxia, dyscalculia, dyslexia and dysgraphia — means many more workers, including senior leaders, will need to consider the potential impact on their jobs. It also means bosses will have to adapt. People are often afraid to disclose their diagnoses at work, fearing they will face discrimination. But as many have found, the benefits of sharing can outweigh the potential costs.
'WE'RE LITERALLY EVERYWHERE'
---
Advertisement
Wages grow faster than inflation for the first time in 2 years
Soaring wages have finally caught up with the surging cost of living, which might be good news for workers, but not so much for Bank of Canada governor Tiff Macklem. The consumer price index rose 5.2 per cent in February from a year earlier, and the average hourly wage of workers increased 5.4 per cent. That means paycheques are keeping pace with inflation for the first time since 2021. But persistent higher wages could force policymakers to rethink their decision to pause interest rate increases, squeezing workers' paycheques all over again.
WAGE PRICE SPIRAL
Work from home endures, despite pushback from bosses
The shift to remote work is gaining momentum in some of the biggest cities in the United States despite increasing pressure from corporate chiefs for employees to return to the office, according to new data from an international team of economists. In some major metro areas, the number of job postings for remote-friendly roles is hitting record levels — and trending upward.
EMPTY OFFICES TO PERSIST
More on the return to office: RBC increases employees' office time to 3 or 4 days a week
Howard Levitt: Workplace sexual abuse is all about power
Consent in relationships has been hashed and rehashed through hundreds of court decisions in the past few years. But in cases involving sexual relationships that start in the office, it's clear that judges look at the concept of consent through a highly skeptical lens. That's because power imbalances are often an inescapable element of workplace harassment cases, say legal experts Howard Levitt and Muneeza Sheikh. The employment lawyers share some key lessons they've learned after years of work on harassment cases.
POWER TRIP
More workplace law: Howard Levitt: In a hot jobs market, turning down an offer can limit your severance, case shows
---
Advertisement
Was this newsletter forwarded to you?
Sign up here to get it delivered to your inbox.
Remote-work trend creates mortgage-backed securities default risk, Moody's warns
Why envy between older and younger colleagues is pointless
Peter Hall: Why companies should invest now, even if a recession is coming
Federal minimum wage rising to $16.65 per hour on April 1
Starbucks faces investor pressure for independent review of union tactics
A tech job in the U.S. still pays $120 an hour despite mass layoffs
Walmart cuts staffing levels at some U.S. warehouses in automation push
Safety Net: Small businesses squeezed by cybercrime costs, proposed push to report attacks
Only 14.1% of directorships at TSX companies are minorities, study finds
FP Work is all about teamwork. In addition to the contributions from our top-notch columnists and reporters, recognition goes to the FP web team, which includes Pamela Heaven, Noella Ovid and Gigi Suhanic.

Sign up here for this and other FP newsletters, and please send us your feedback, tips and story ideas.
We want to know what you think about FP Work. Take this quick survey now and share your feedback with us.