View this email in your
browser
Good morning!
Though some workers are still itching to quit their jobs in search of a higher paycheque, the Great Resignation — and the rage applying that followed in its wake — might now be well and truly over.
Fewer people are switching jobs these days, Statistics Canada said in its labour force survey released Sept. 8, with the job-changing rate, or the number of workers who quit for new positions, at 0.4 per cent in August. That number is off its peak of 0.8 per cent in January 2022, and lower than the pre-pandemic average of 0.7 per cent from 2017 to 2019. "Reduced 'labour market churn' means job seekers may be facing more difficulty finding new work," the agency said.
Postings for jobs have been sliding for months on hiring site Indeed Canada, according to senior economist Brendon Bernard. Job ads had fallen 23 per cent as of Aug. 25 compared to the same period last year, and they're 29 per cent off their May 2022 peak. Expect more where that came from, too. "There's no sign of the downtrend abating," Bernard said in a Sept. 6 report.
Hiring is also down, TD Economics director and senior economist James Orlando said in an assessment of the August jobs numbers on BNN Bloomberg last Friday. Statistics Canada said the economy added 40,000 jobs, but population growth of 103,000 outstripped those gains. Self-employment rose by 50,000 workers, amid a decline in private employment.
"If you look at where the job gains are, most of it was in self-employed, and that's a really hard number to measure," Orlando said. "If you look at businesses hiring, businesses actually shed workers over the month of August."
Add to that a marked decline in job vacancies, which were down to 753,400 in June, the lowest figure in two years and well off the record of around a million in 2022, and it appears things are becoming much trickier for workers wanting to make a career change.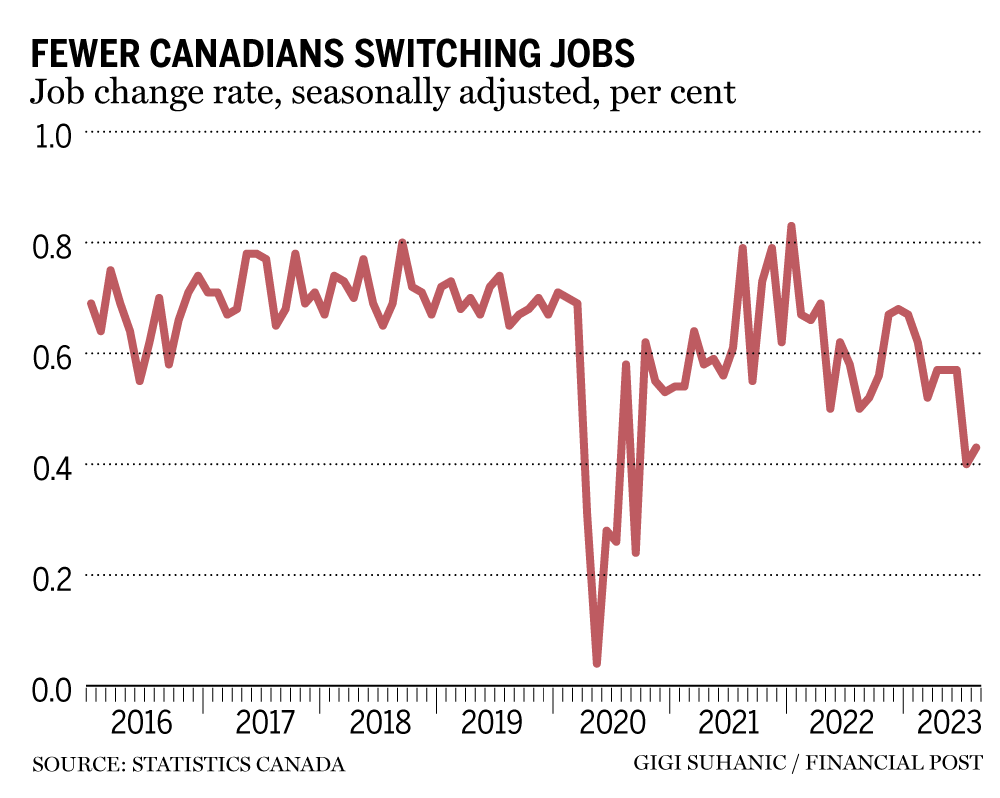 Still, the number of employed Canadians looking to make a leap is not small, with four in 10 already looking for or planning to find a new job by year-end, according to research from recruiter Robert Half Inc. Of those contemplating a change, 67 per cent are gen-Zers, 41 per cent are in marketing or creative professions, 51 per cent are parents and 56 per cent have been with their employer for the past two to four years.
Most say the hunt for a bigger paycheque is driving their job search, which is not surprising given the higher cost of living continues to squeeze pocketbooks. The good news is that wages were up 4.9 per cent month over month in August, which is above the rate of inflation — for now.
There are signs employers have started pulling back on offering big wage hikes. For example, small business owners surveyed by the Canadian Federation of Independent Business in August said they planned smaller wage increases of 2.5 per cent, much lower than the peak of 3.6 per cent in 2022. Advertised wages in job postings on Indeed also declined to less than four per cent in July, down 5.3 per cent from their high in 2022. "Both trends in job postings, and their advertised wages, suggest wage growth is set to cool," Bernard said. "This likely isn't great news for job seekers' conditions."
It may also be more proof that the balance of power is tipping back to employers after being in the hands of employees for so long. The side-effect is that it could soon become less necessary for bosses to offer coveted, full-time remote-work positions to woo new hires. That might already be happening. The share of people who only work from home is dropping, sliding to 13.6 per cent in August, down 3.2 percentage points from a year earlier, Statistics Canada said. Meanwhile, hybrid work ticked up by only 1.7 percentage points.
Bank of Canada policymakers and many of the analysts who follow them think the labour market is in the process of rebalancing. That means those dreaming of clinching a new position may find they're forced to stay put, at least for now.
— Victoria Wells, senior editor, Financial Post, and FP Work editor
Do you have thoughts, suggestions or comments you'd like to share with us at FP Work? Please send an email to [email protected]. We'd love to hear from you.
More from the FP Work and the Financial Post
Canada adds unexpected 40,000 jobs in August — but 50,000 needed to maintain pace
What economists say about August's jobs numbers
Rage applying is the new quiet quitting for employees who feel underappreciated
Bosses beware: Employees are thinking of quitting, and a recession isn't going to stop them
---
Advertisement
Getting workers back to the office is a $1.3-trillion problem few have figured out
Three and a half years after millions of office-goers were sent home en masse, companies, employees and governments are still figuring out how to adapt to lasting changes to their corporate life. But stark differences have emerged across continents and cultures, with Asian and European workers largely returning to offices at a faster pace than their counterparts in the Americas. Even over there, workers are facing vastly different policies depending on their company, manager or location.
BAND-AID SOLUTION
Was this newsletter forwarded to you?
Sign up here to get it delivered to your inbox.
---
Advertisement
'A sick day should be a sick day': Hybrid work complicates illness policies as flu season looms
Howard Levitt: The CRA has closed a loophole that will transform severance settlements
Canada's tech industry moving away from remote work
Metro strike gains raise the bar for Canada's grocery store workforce, unions say
Taxpayer finds himself on wrong side of CRA when claiming employee expenses
Howard Levitt: $1.5-million punitive damages award in disability case sets new record
Back-to-office plans fall flat amid arbitrary rules, lack of communication
'Friday is just a dead day': How a summer perk became a year-round staple
Amazon ups stakes over flouted return-to-office rules
CEO of this desk worker's lunchtime favourite bets return-to-office mandates will struggle

FP Work is all about teamwork. In addition to the contributions from our top-notch columnists and reporters, recognition goes to the FP web team, which includes Pamela Heaven, Noella Ovid and Gigi Suhanic.

Sign up here for this and other FP newsletters, and please send us your feedback, tips and story ideas.
We want to know what you think about FP Work. Take this quick survey now and share your feedback with us.