View this email in your
browser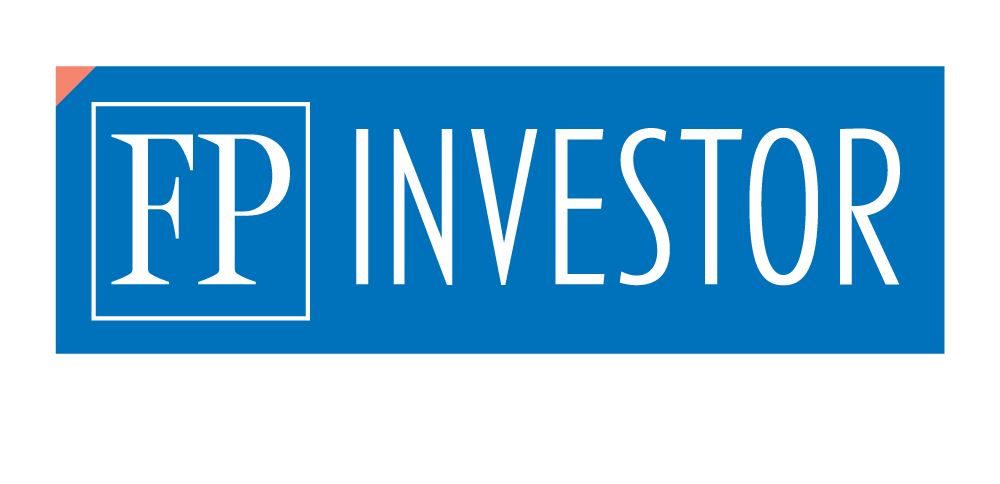 Good morning. Most of us have debt of some kind, whether it's a mortgage, line of credit, car payments or unpaid credit cards, even if only temporarily. It's not something we like to talk about, especially if our debts are high and rising. The average Canadian has around $21,000 in debt per person, excluding mortgages. Hopefully, we're motivated to reduce that, but those who think they might get laughed at or stigmatized for falling far behind tend to further hurt themselves by concealing their debts, refusing help or even spending more in public to show everything is OK. This can even have negative effects on your mental well-being, never mind your finances.
There are experts who can help eliminate the red ink, but some people who feel ashamed or embarrassed about their money woes don't want to share such details even with a debt counsellor who has no other connection to themselves or their families. But perhaps something like Debtors Anonymous could help.
Research of other stigmatized behaviours, such as alcoholism and overeating, has shown that community-oriented behaviour-change programs can increase positive emotions and well-being, so why not debt? Turns out, it works, according to a recent Canadian study. Self-identified middle-class people who participated in a community group paid off $4,370 more of their debt than those in the control group (who were not offered any financial education during the study), while those in a private online setting with classes delivered by an instructor paid off $3,531 more.
"If you are someone who fears stigmatization, you can get help in a community-based course or environment, and you're going to experience gains in your well-being, and you're going to actually start engaging in behaviours that will set you up to continue with debt repayment beyond the course," says Miranda Goode, an associate professor of marketing at Western University's Ivey Business School in London, Ont., and one of the authors of the study.
The reason is pretty simple: connecting with people who feel the same way and fear the same things can create supportive relationships that motivate you to change your ways. "The crux of that is really that you're among people who are experiencing similar circumstances who are also feeling like they could be judged, so they can share and relate," Goode says. "There's a bit of an opportunity to have a cathartic release because you no longer need to hide. You can talk about this in a safe environment, and you build up connections with other people because of that. You experience this motivation that propels you forward, and you can start dealing with your debt instead of hiding it."
Not every debtor fears being stigmatized, but plenty of people need help one way or another. Nearly half of Canadians say they regret the amount of debt they've taken on, according to MNP Ltd.'s last quarterly survey, and 47 per cent are concerned about their current level of debt, a record high and seven percentage points higher than the previous quarter. Only 51 per cent are confident in their ability to cover all their living/family expenses in the next year without going further into debt.
It's not just our debts that we're concerned about, though 39 per cent of Canadians are worried about paying them off, according to a new poll by the Bank of Nova Scotia. The poll also found that 44 per cent of us are stressed about paying day-to-day expenses and 38 per cent are worried about saving for emergencies. All told, we're spending an average of 15 hours a week worrying about our finances, up from 10 hours a year ago. That works out to roughly 31 days a year and so that's going to overlap with our working lives. Indeed, more than 80 per cent of North Americans admit to thinking about their personal finances during work hours, the Financial Wellness Lab estimates.
Yet we continue to spend more despite our debts, high interest rates and inflation, with retail sales increasing 0.7 per cent in January from December, according to Statistics Canada's preliminary data, following a 0.5 per cent increase in December. Retail sales jumped 8.2 per cent in 2022, led by gasoline and general merchandise. Seems like quite a few of us need some retail therapy, which could force us to get some debt therapy down the road.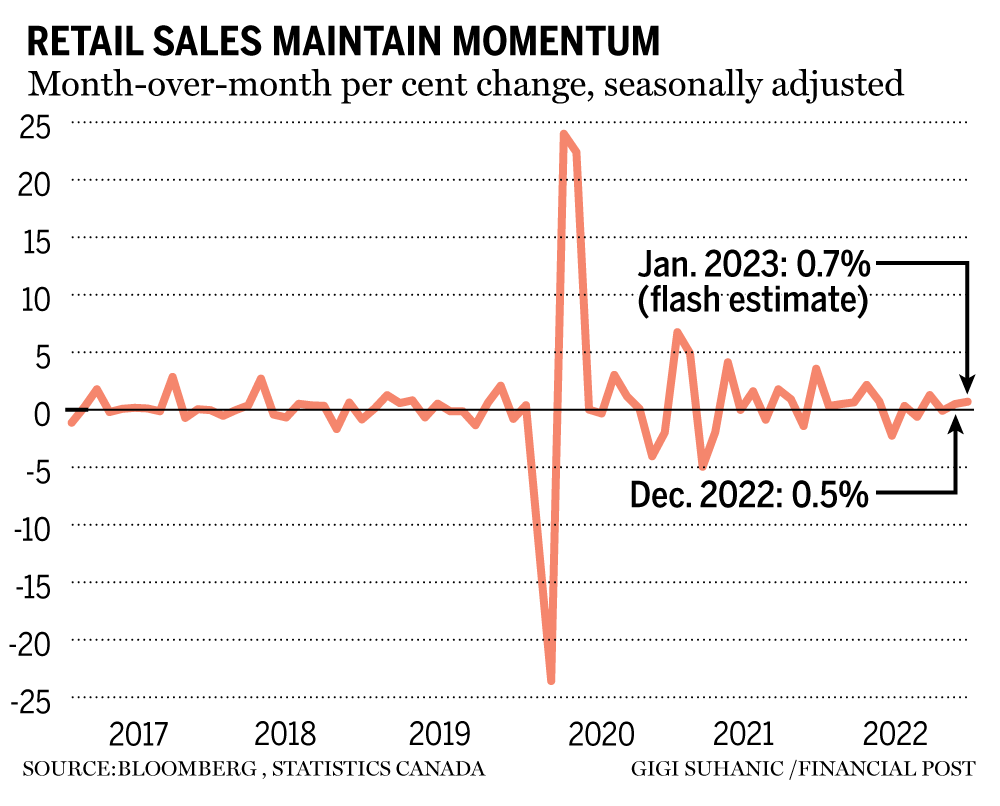 Andy Holloway, editor of the FPI and Financial Post Magazine, and senior features editor of the Financial Post. If you have any quips, queries or comments, get in touch at [email protected]
---
Advertisement
5 investing theories that seem right, but need to be tested in real life
If you can find a market anomaly that provides consistent outsized returns, you can make a fortune before it is ultimately copied and returns are diluted. That's why there are hundreds of studies about indicators out there, but veteran investor Peter Hodson has five more he'd like to see, from the value of watching new highs to early morning trading rules.
TESTING, TESTING 1, 2, 3
3 factors that can tell you if you're investing or gambling with your money
A lot of gamblers moved to online trading when professional sports shut down during COVID-19, and they stuck around even after sports betting returned. As a result, retail trading is now at an all-time high and portfolio manager Martin Pelletier says you might be gambling without knowing it.
ROLL THE DICE
3 key factors to pay attention to when selecting mutual funds
Mutual fund fees have long been a hot topic and now there's a daily barrage of commercials claiming that passive-style exchange-traded funds will result in us retiring 30 per cent richer. Investment adviser Taylor Burns says mutual funds have their place in the investment industry, but it's up to you to make sure you're getting the most value for your money.
FEE-FI-FO-FUM
How to keep calm and carry on investing when recession looms
Interest rates are still high and talk of a looming recession is intensifying, which is why many investors are keeping a closer eye on their portfolios and financial plans. Portfolio manager Joelle Hall offers some potential topics you might want to bring up with your advisers when it comes to managing your financial plan for the long term.
A GOAL WITHOUT A PLAN IS JUST A WISH
FP 500 — The most authoritative survey of corporate Canada: The 2022 FP 500 is the only national ranking of the country's public, private and Crown corporations, making it an indispensable research tool with vital data on Canada's top companies across all sectors. Order your copy here.
---
Advertisement
The anti-Cathie Wood: Investor is building a stock empire on oil, tobacco and banking
Rajiv Jain is everything that Cathie Wood isn't: the co-founder of GQG Partners Inc. doesn't have a Twitter account, rarely appears on TV and doesn't have any driverless-car companies or hypersonic-missile manufacturers in his growth-stock funds. Instead, you will find lots of industries with a decidedly 20th-century feel and the formula has proven spectacularly successful.
OLD SCHOOL RULES
When is capital gains tax due on a cottage purchased in joint tenancy with two other people?
Owning a cottage with someone else can present problems down the road when one partner wants to sell or dies. Certified financial planner Andrew Dobson says such a situation raises many questions since tax may not be payable if an owner qualifies for the principal residence exemption, but a sale generally results in capital gains tax being owed.
GET THE ANSWER
If you have an investing or personal finance question, hit us up at [email protected].
Here's why investing in an RRSP does make sense for many Canadians
Investing in a registered retirement savings plan has its detractors, but tax expert Jamie Golombek is a fan. He says RRSPs are likely the best way for many Canadians to save for retirement since it allows people to earn effectively tax-free investment income. And that's not a typo: tax free, not merely tax deferred.
CONTRIBUTION TIME
So you've been laid off: Here's what to do to keep your finances from going awry
Money really does make the world go 'round, which really comes to light if you're laid off and money gets a bit tight. Debt counsellor Sandra Fry says there are ways to make dealing with a reduction in income a bit easier, but it starts with figuring out where you stand, cutting any unnecessary expenses and maybe even telling your bank and creditors what's up.
TIGHTEN TO RIGHTEN
You asked for it and now it's back. We're pleased to announce that our Family Finance column is returning to help solve your money issues. Worried about having enough for retirement? Wondering how to make ends meet? Need to adjust your portfolio? Just drop us a line at [email protected] with your contact info and the general gist of your problem and we'll try to find some experts to help you out while writing a story about it (we'll keep your name out of it, of course).
Is it tax time already? It must be since T4 and T4RSP slips are being issued, so there's no better time for tax expert Jamie Golombek to talk with the Financial Post's Larysa Harapyn about the tax deductions and credits you should know before filing your 2022 return. He also explains the new First Home Savings Account, which combines the benefits of a registered retirement savings plan and a tax-free savings account.
WATCH THE VIDEO

Good news if you have a home investing bias: The S&P/TSX composite index will rise 6.2 per cent in 2023 to 21,500 and then hit a record high of 22,500 in 2024 as the Bank of Canada turns less hawkish and China's reopening boosts demand for commodities, according to a Reuters poll of 21 portfolio managers and strategists. But both forecasts are down from its November poll.
Bad news if you like Canadian bank stocks: The Big Six may be off to a flying start on the stock market this year, but analysts suspect things will turn sour as cracks form in the economy. "Yes, bank shares started off the year on the right foot, but we don't believe that this Fast and Furious rally can last," say Scotiabank analysts, referencing the movie franchise.
Good news if you are a Sigma Lithium Corp. shareholder: Stock in the TSX-listed miner rose almost 20 per cent on Tuesday after it was revealed that Tesla Inc. is interested in making a takeover bid as it tries to shore up its supply of lithium, a key metal for electric vehicles.
Bad news if you're a young 'un: There are plenty of stories about seniors being scammed, but it turns out that 63 per cent of those aged between 18 and 34 have been a victim of a scam at least once, according to the latest fraud report from the Chartered Professional Accountants of Canada, compared to 39 per cent of those aged 35 to 54 and 31 per cent of those older than 55.
Good news if you're a Suncor Corp. shareholder: The oilsands giant on Tuesday finally appointed a new CEO, energy patch veteran Rich Kruger, after a seven-month-long search, and investors pushed the stock up 1.9 per cent following the announcement.
Bad news if you're a fan of hot tech stocks: The top 50 performing companies on the TSX Venture Exchange are led by energy and mining companies with a focus on the green transition, which gained 174 per cent and 89 per cent, respectively in 2022, compared to 34 per cent combined growth among the other three sectors.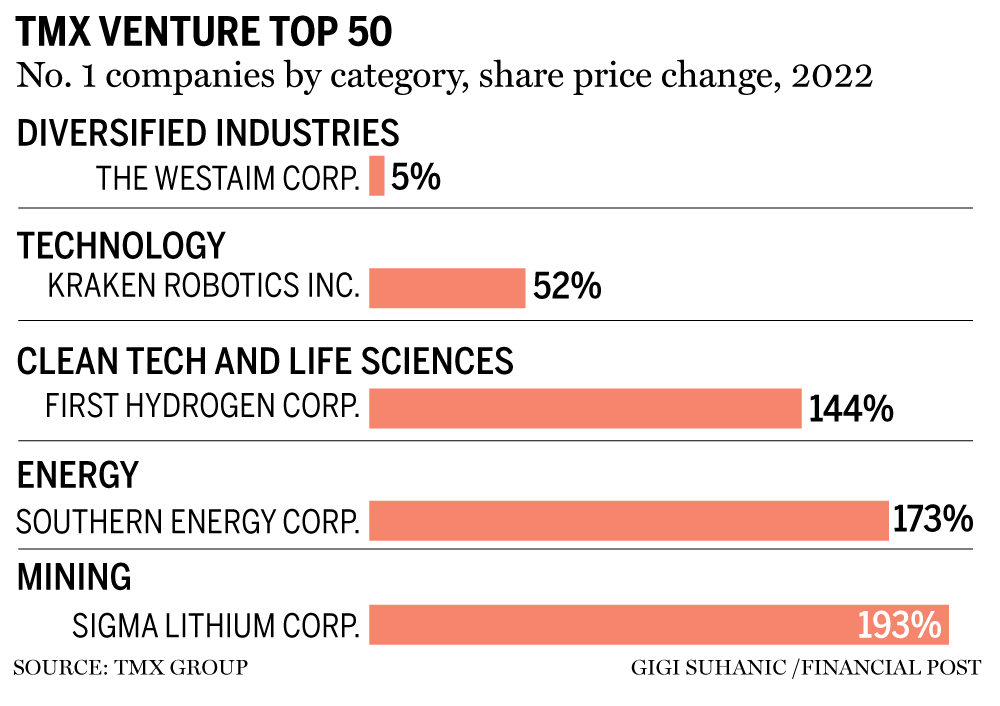 Was this newsletter forwarded to you?
Sign up here to get it delivered to your inbox.
We want to know what you think about FP Investor. Take this quick survey now and share your feedback with us.