View this email in your
browser
Good morning!
Employers finding that work-from-home options aren't enough to keep staffers from quitting might want to consider a new perk catching people's eye: the four-day workweek.
The idea of working fewer hours for the same amount of pay is gaining ground, with 93 per cent of Canadian employees saying they'd be interested in trying out a four-day workweek, according to a recent survey from Talent.com, a job search site. Excluding higher pay, getting an extra day off each week is the top perk employees want companies to offer, followed by health and dental benefits, and flexible schedules. They said less time on the job would be good for work-life balance, help cut stress, reduce burnout and make them more productive.
Research shows those assumptions aren't wrong. Trials conducted by 4 Day Week Global at 91 companies in Canada, the United States, the United Kingdom, New Zealand and Australia have shown that cutting the workweek to 32 hours, without reducing salaries, has been immensely beneficial for employees. For example, burnout levels among workers declined by 71 per cent during the U.K. trial. Many also reported a drop in their stress levels, improved mental health, less fatigue and better sleep at night. "Everyone is focused, everyone knows what they're doing, everyone is refreshed," said one manager at a U.K. restaurant that participated in the trial.
Not surprisingly, that's also translated into benefits for their employers. Companies report that fewer staffers called in sick or quit, productivity grew and revenue rose 35 per cent on average during the trial compared to prior years. Employers also said it made it easier to hire new recruits, a pain point for many in a tough labour market where skilled talent remains hard to find. It's a recipe for success, setting organizations up with a competitive advantage that helps them stand out from the pack, said Joe O'Connor, director of the Work Time Reduction Center of Excellence in Toronto, and former chief executive of 4 Day Week Global. "The edge that those companies give themselves when it comes to attracting and retaining talent is really quite significant," he said on the Financial Post's Down to Business podcast in December.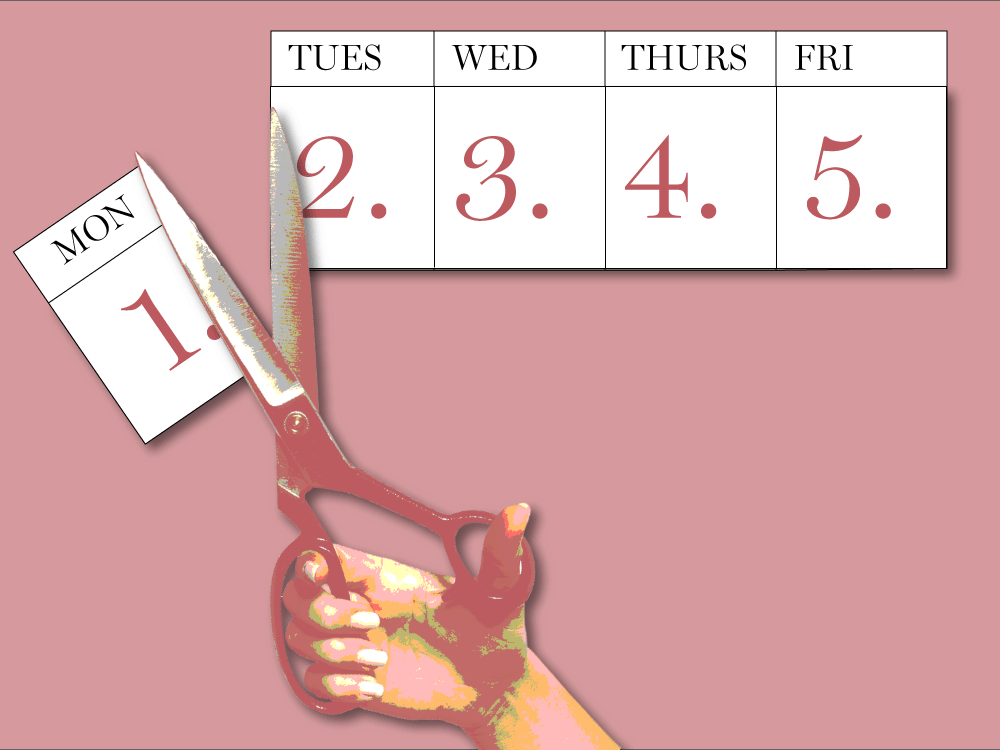 Globally, company leaders loved the results of the trial so much that 91 per cent plan to keep the four-day workweek in place.
With results like that, it's a wonder more companies haven't jumped on board. Companies with shorter workweeks appear to be relatively rare in Canada, though it is picking up steam among a number of small municipalities in Ontario, and many other bosses appear to be warming up to the idea. According to research conducted by recruiter Robert Half, 91 per cent of senior managers said they'd support a four-day workweek and 69 per cent believe it could become a reality at their company within five years. The switch could be easier than some might anticipate. "For a huge amount of organizations, we already have the productive capacity and the technological tools at our disposal to work shorter and to work smarter," O'Connor said.
In the U.S., politicians have started taking notice and action. In March, a California lawmaker reintroduced legislation in Congress that would make a 32-hour workweek the national standard. "There is consistent and sustained interest in this reform. It's not going away," Rep. Mark Taken said. Senator Bernie Sanders has also joined the call for shorter working hours "with no loss in pay," writing in The Guardian on May 4 that Americans have ended up working longer hours for less money when technological advancements, including automation and artificial intelligence (AI), should translate into the opposite.
Indeed, AI might be the catalyst that propels many of us into a shorter workweek, researchers said. One Nobel Prize-winning labour economist said chatbots such as OpenAI LP's ChatGPT will likely boost productivity, letting humans work less. "We could increase our well-being generally from work and we could take off more leisure. We could move to a four-day week easily," Christopher Pissarides said. That could translate into a better quality of life, as research shows that people with shorter workweeks invest more time in hobbies and leisure activities, and spend more time with family and friends, which could explain their resulting lower burnout and stress levels.
There are, however, some potential problems. Workers fear their bosses will misunderstand what they're truly looking for in such a policy. For example, people are less interested in a four-day schedule if it means they'll need to be on the job more than 36 hours a week or take a pay cut, Talent.com's survey said.
Employers, meanwhile, might delay adoption as a looming recession forces some executives to conduct layoffs and put employee perks on the back-burner. Implementing shorter workweeks may also be more complicated in some sectors, though O'Connor said he's convinced they can be put into place everywhere, from manufacturing to hospitality to professional services. "Some version of reduced working time is achievable right across the economy," he said.
But if bosses think the four-day workweek is just a passing trend, they might be disappointed. It's a demand that employees are unlikely to abandon any time soon, especially as flexibility becomes more important and technology changes how we work. "That genie is not going back into the bottle," O'Connor said.
— Victoria Wells, senior editor, Financial Post, and FP Work editor

FP Work is taking a one-week break and will be back in your inbox on Tuesday, May 23.
Do you have thoughts, suggestions or comments you'd like to share with us at FP Work? Please send an email to [email protected]. We'd love to hear from you.
More on the four-day workweek from the Financial Post
Brave new (work) week: The four-day revolution comes to Canada
The four-day workweek is coming
Thursdays really are the new Fridays as the four-day workweek becomes more widespread
---
Advertisement
Recent graduates are struggling at work because they lack basic skills
Big consultancy firms in the United Kingdom are giving extra coaching to their youngest staff after noticing recruits whose education was disrupted by lockdowns have weaker teamwork and communication skills than previous cohorts. Junior employees who spent part of their school or university years isolated from their peers have found it harder to adapt to the work environment, and many have less confidence doing basic tasks such as making presentations and speaking up in meetings. Still others are crumbling under stress. Hybrid work is only making things worse.
SKILLS GAP
---
Advertisement
Was this newsletter forwarded to you?
Sign up here to get it delivered to your inbox.
Kevin Carmichael: Jobs surge signals higher interest rates for longer — and hikes still on the table
'Some of you will leave Shopify today': What to know about the tech giant's latest layoffs
Employers beware: Layoffs cause ripple effects, leading to unwanted departures
How to spot corporate rot
Howard Levitt: Employees should obey first and sue later if they don't like their boss's orders
AI, COVID job disruptions risk hurting women more than men
Howard Levitt: Employers still overzealous when it comes to firing "with cause," despite potential costs
Public-sector employees' remote work agreement just the beginning, labour experts say
Wage increases secured by striking workers shouldn't be seen as 'fat cat': experts

FP Work is all about teamwork. In addition to the contributions from our top-notch columnists and reporters, recognition goes to the FP web team, which includes Pamela Heaven, Noella Ovid and Gigi Suhanic.

Sign up here for this and other FP newsletters, and please send us your feedback, tips and story ideas.
We want to know what you think about FP Work. Take this quick survey now and share your feedback with us.