View this email in your
browser
Good morning!
If bosses really want workers to come back to the office, they should forget about offering a free lunch and do something about noisy workspaces and employees' painful commutes, while also mandating a certain number of in-office days.
That's according to new research from real estate services company Colliers Canada, which tried to crack the code on what it takes to get people to show up for their in-office days. The prospect has proven surprisingly difficult, and it's also resulted in emptier downtown cores and caused office vacancies to spike to record highs. What's become clear is the scattershot approach many employers have taken to woo people back to the office hasn't been working, but they aren't sure how to fix it.
"The office market is still in a funk with hybrid (work)," John Duda, president, Real Estate Management Services, at Colliers Canada, said. "What we were noticing is that everyone had an opinion and anecdotal information. But what came through in our last survey was over 50 per cent of the companies were saying, 'I don't know what to do.'"
The secret sauce might lie in a combination of mandated in-office days, quiet workspaces and easing the costs and time of commuting, Colliers' research shows. Those factors might seem obvious, but no one element is enough on its own to entice workers back to their desks willingly. It's a discovery Duda calls a "big deal" for employers wanting a solid return-to-office formula.
For one thing, simply ordering people back to the office doesn't always work, the research showed. A funny thing happens when companies mandate in-office days that workers deem excessive: they stop showing up. The sweet spot depends on the organization, but on average, asking people to come to the office one or two days a week results in even more frequent attendance, Duda said. But start telling them to come in for four days or more, and many will find excuses to not make the trip. "It's not a one-to-one relationship, which is something that surprised us," he said.
Further, the rush to implement open-concept workplaces before the pandemic may now be complicating employers' efforts to win people back. "We've underestimated how much of an impact the design of your space has on your ability to do your job," Duda said.
Employees complain they find it difficult to focus in open office setups, since distractions are numerous and quiet zones are hard to find. Such a setup won't inspire a trip to the office if an employee feels they can do more, and better quality, work at home. Colliers said people stuck in cubicles or other open floor plans spend an average of six hours less a week onsite, while people with private offices spend an average of four more hours a week. The results suggest employers may need to consider overhauling their floor plans. "When it is the right setup, people will come in because they choose to come in, because it helps them to do what they need to do," Duda said.
There's another pain point employers can address if they want workers to show up: the gruelling commute in the biggest cities. Colliers calculates that for each extra minute a person spends commuting, they spend 0.2 fewer hours in the office each week. For every extra dollar they spend, they put in 0.45 fewer hours. With the average commute across the country at 31 minutes one-way, and at a cost of $9.50, that adds up to 10 fewer hours in the office weekly. Of course, those numbers are worse in the Greater Vancouver and Greater Toronto areas, with commuting times closer to 35 minutes one-way and costs topping $10.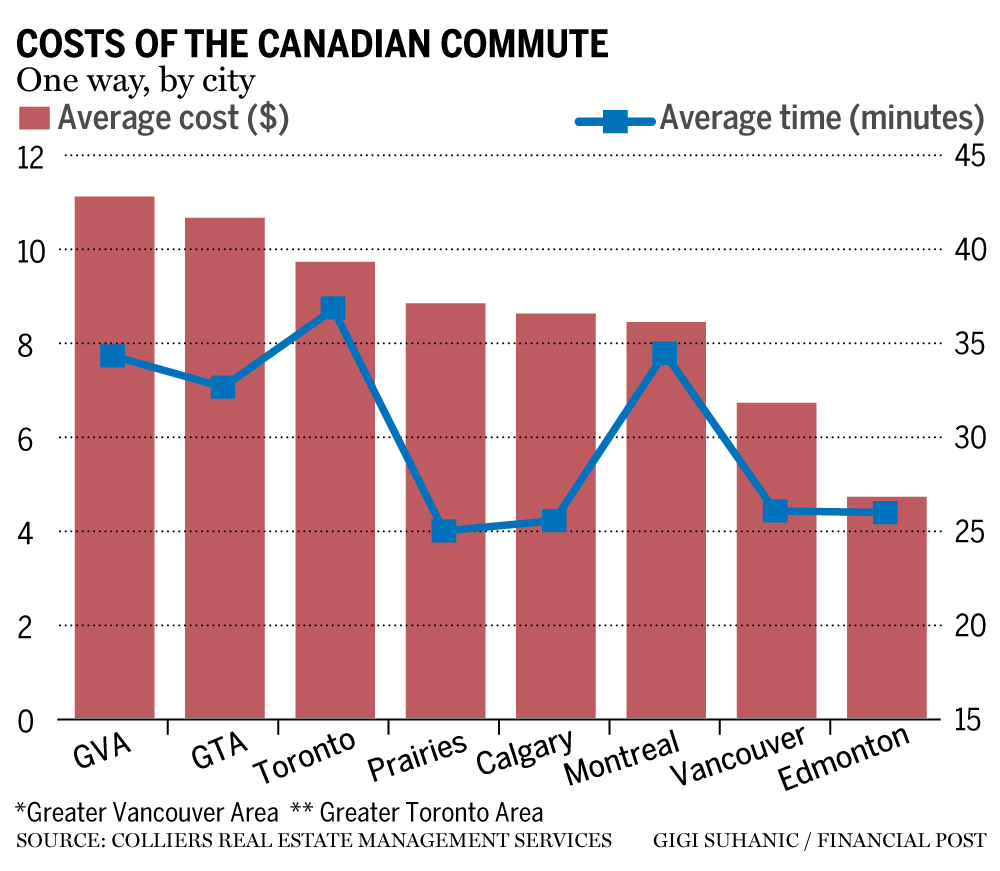 What can employers do? Offering flexible working spaces might be one solution, Duda said, especially for suburban commuters who must travel to cities for work. Companies might consider renting shared office space in a suburb for those workers, or maintain smaller offices while reducing their downtown footprints to keep costs in check. Subsidies are also an option and employers could provide incentives by paying for parking or transit.
Still, if employers tackle only one of the three elements Colliers identifies as key but ignore the others, they aren't likely to have much success getting people back to the office on a regular basis. "These factors are cumulative," Duda said. "You can't actually look at it in isolation."
Nor may they be a determining factor in the future, since work-from-home arrangements may not last the way people expect, Duda said. Colliers forecasts office vacancy rates will come down by the first quarter of 2025 as more companies require workers to show up onsite amid easing job vacancies and talent shortages that are shifting power away from employees. That shift has already started, but will become even more obvious in the fall when more companies are expected to force people back to the office. "The amount of return to work is increasing, and it is already increasing," he said. "That is consistent right across the country."
— Victoria Wells, senior editor, Financial Post, and FP Work editor
Do you have thoughts, suggestions or comments you'd like to share with us at FP Work? Please send an email to [email protected]. We'd love to hear from you.
More on the return to office from the Financial Post
Canada's empty downtowns defy post-pandemic return-to-normal — and business owners are feeling the pain
More Canadian cities are turning office towers into homes to save their downtown cores
Return-to-office fight not over yet as workers say flexibility is a right, not a perk
---
Advertisement
Outgoing CEO of construction giant EllisDon says finding workers will be successor's biggest job
Geoff Smith, the outgoing chief executive of EllisDon said his priority during his tenure was hunting for clients, but his successor will have a different mission: finding workers. The construction industry has been rocked by higher inflation and supply chain shocks, along with labour shortages. But though inflation and supply chain issues are improving, worker shortages are not, which is making it expensive to build.
'PROFOUND SHORTAGE'
---
Advertisement
Was this newsletter forwarded to you?
Sign up here to get it delivered to your inbox.
Older workers aren't less productive: What we get wrong about aging and work
Howard Levitt: Why many new employment contracts are just as unenforceable as the old ones
Canada targets immigrants with specific skills and French speakers
Work-from-home clampdown continues as Meta orders office staff back 3 days a week this fall
Shopify faces class action as recently laid-off staff allege it reneged on severance offers
U.S. labour market sends mixed signals, giving Fed reason to pause rate hikes
Suncor to cut 1,500 jobs by end of year as new CEO seeks to trim costs
Suncor job cuts example of 'collateral damage' from activist investors: experts
Amazon.com employees walk out to protest return-to-office, climate policies
Howard Levitt: B.C. teaching assistant's OnlyFans page raises questions of what's appropriate outside work

FP Work is all about teamwork. In addition to the contributions from our top-notch columnists and reporters, recognition goes to the FP web team, which includes Pamela Heaven, Noella Ovid and Gigi Suhanic.

Sign up here for this and other FP newsletters, and please send us your feedback, tips and story ideas.
We want to know what you think about FP Work. Take this quick survey now and share your feedback with us.